Sign for a ban on biometric mass surveillance
If we can get 1 million European Union citizens to sign our European Citizen's Initiative we can make the European Commission listen. Join us.
Call to Action
Post date
16th April 2021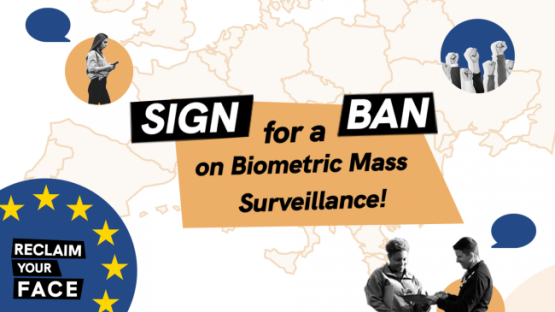 Support this initiative proposed by European Union citizens
Please note: this European citizens' initiative is managed by EDRi, who will be sole controller of your personal data once you click "SUPPORT". Your personal data will be processed in accordance with the Reclaim Your Face campaign's Privacy Policy. Privacy International acts as joint controller of your personal data with EDRi only while you enter your personal data on the widget.
The data you provide is required by EU regulation to confirm the validity of your signature, and will not be used for any other purpose.
Please note this initiative can only be supported by European Union citizens of age to vote in European Parliament elections or, for some nationalities, above 16 years old.
Keep up to date
Keep up with what's happening with this ECI, find out when we hit the signature threshold, and what you can do to help us get there by signing up to our mailing list