Send a letter to Priti Patel to demand that the UK Home Office stops spying on asylum seekers!
We are demanding that the UK Home Office stops spying on asylum seekers through their 'Aspen Card' payment cards. Please join our campaign, and take 2 minutes to send a letter to Priti Patel today!
Call to Action
Post date
23rd February 2021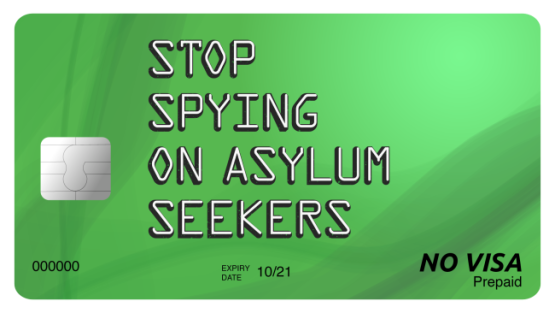 The 'Aspen Card' is a debit payment card given to UK asylum seekers by the Home Office. It provides basic subsistence, but the Home Office can also use Aspen Cards to track exactly what asylum seekers are buying, and where and when they're making their purchases. But it doesn't just stop at surveillance. The Home Office can cut off asylum seekers' access to money if their spending patterns don't adhere to invisible rules.

PLEASE TAKE 2 MINUTES TO JOIN OUR CAMPAIGN TO STOP ASPEN CARD SURVEILLANCE!
CLICK HERE TO SEND THE FOLLOWING EMAIL TO PRITI PATEL, THE UK HOME SECRETARY, TO DEMAND THAT THE HOME OFFICE STOPS SPYING ON ASYLUM SEEKERS
(Or you can copy and paste the email below and send it directly to Priti Patel at public.enquiries@homeoffice.gov.uk)
Dear Home Secretary,

I am writing to you to demand urgent reform of how asylum seekers across the country are placed under surveillance through the very same device that is supposed to provide basic subsistence support to them.

As you know the Aspen Card is a kind of debit card given to asylum seekers, on which about £39 is credited every week to cover their basic subsistence needs. But, reportedly, the Aspen Card is also used to closely monitor asylum seekers and how they spend their money.

As a result, it appears some users have had their benefits cut because their spending habits did not conform to the Home Office's idea of what an asylum seeker should buy.

The charity Privacy International has published the testimonies of three asylum seekers who have been victims of these practices. These testimonies show how people are being forced into destitution when they do not adhere to invisible and arbitrary rules and conditions around the use of their Aspen Card.

This has to stop.

Asylum seekers have a right to dignity, over which the Home Office is trampling with its inhumane practice of combining subsistence with surveillance.

Please, put an end to the monitoring of Aspen Card users.

Sincerely,

[YOUR NAME]
PLEASE SIGN UP TO OUR E-NEWSLETTER TO GET UPDATES ABOUT PI'S WORK.