Three creepy examples: why am I seeing this ad??
Monday, November 18, 2019
Recently the role of social media and search platforms in political campaigning and elections has come under scrutiny. Concerns range from the spread of disinformation, to profiling of users without their knowledge, to micro-targeting of users with tailored messages, to interference by foreign entities, and more. Significant attention has been paid to the transparency of political ads, and more broadly to the transparency of online ads.
In September 2019, PI published its analysis of what Facebook, Google, and Twitter had done to provide their users globally with meaningful insight into how ads are being targeted at them. A lot of attention within this work is focused on political ads transparency, and for good reason.
But it is also important to consider expanding transparency to all ads, not only political or political issue ads, which the companies currently all defines differently. Any definition of political and political issue ad risks being too narrow and therefore there needs to be further discussion about what ads must have heightened transparency requirements.
In early September 2019 PI published a report that analysed 136 popular mental health web pages related to depression in France, Germany and the UK. Our research showed that over 75% of these websites used third-party trackers for marketing purposes.
A few days after the report's release, one of the report's authors began receiving targeted ads on Instagram related to mental health. Using Facebook's transparency tools, the person remains unable to meaningfully understand why and how the advertisers was able to target the ad so granularly. That some advertisers are treating the personal health data of those seeking mental health support as a commodity is unacceptable.
People should be able to quickly and meaningfully be able to understand why they are being targeted with an ad – not just the general categories of who the advertiser is aiming to reach but specifically why the ad was shown and what data was used to target the ad.
We've put screenshots below to demonstrate how little information Facebook makes available via its transparency tool to users to understand how and why they were targeted with such ads. We are still unable to understand why exactly we were targeted with these ads.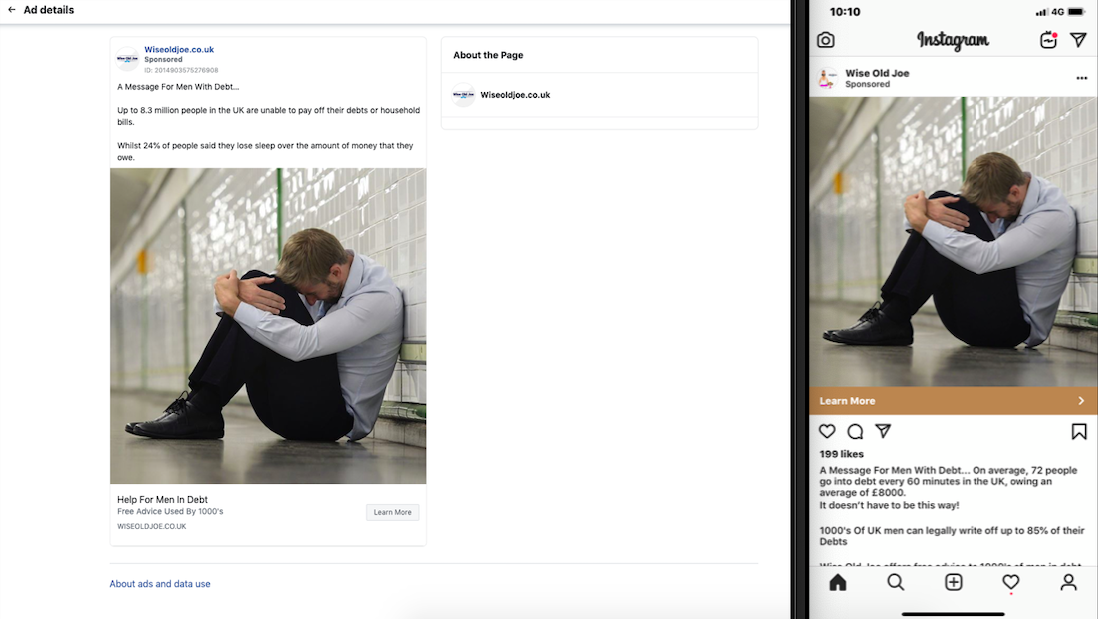 Our staff member was shown the below two Instagram ads and the ad in the header image. This shows the information that Facebook and Instagram (owned by Facebook) provides to users about what the company considers to be non-political ads. There is no information about who the advertiser is targeting or who has actually seen the ad. There is also no information about how much the advertiser has paid. This lack of transparency is unacceptable.