Side event on data intensive systems at the United Nations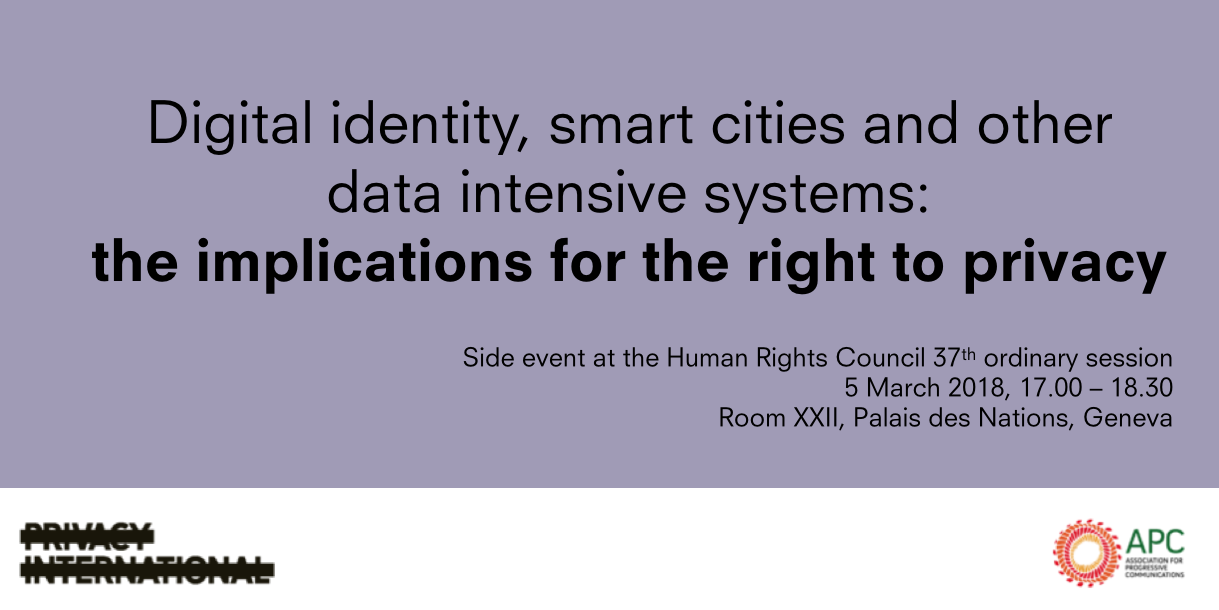 Tuesday, February 27, 2018
On March 5th, 2018, during the 37th ordinary session of the Human Rights Council in Geneva, Privacy International and the Association for Progressive Communications, with the support of the Privacy in the Digital Age Core Group (Austria, Brazil, Germany, Liechtenstein, and Mexico), will hold a side event to discuss data intensive systems and their implications for the right to privacy.
Innovations in policy and technologies that rely intensively on data – its generation, collection, processing, sharing – are now core to governments' initiatives to improve people's lives. These initiatives (smart cities, national ID systems relying on biometric data, device/SIM card registration, etc.) will significantly shape the governance of societies well into the future.
However, the lack of transparency and accountability, adequate legislation and access to remedies mean that there is limited information on how these initiatives work. Furthermore, as has been widely reported, the private sector plays a crucial role in encouraging, enabling and sustaining governments' efforts.
This vast amount of data is used to profile individuals, leading to risks of discrimination in accessing public services; to increase surveillance of individuals, including activists and journalists; and to expose populations whose identities render them vulnerable to further risk.
This side event aims to build upon the work of the Human Rights Council and the Special Rapporteur on the right to privacy. In particular, the 2017 Human Rights Council resolution on the right to privacy in the digital age noted how "individual profiling may lead to discrimination or decisions that otherwise have the potential to affect the enjoyment of human rights, including economic, social and cultural rights, and recognising the need to further discuss and analyse these practices on the basis of international human rights law."
Additionally, the UN Special Rapporteur on the right to privacy has presented his initial assessment of big data, open data and human rights in his 2017 report to the UN General Assembly. He has opened consultation on this with the view to present a final report at the UN General Assembly this year.
The German ambassador Antje Leendertse, and the Brazilian ambassador Maria Nazareth Farani Azevêdo, will give a welcome to the event.
The panel will be moderated by Deborah Brown, from the Association for Progressive Communications, with panellists: Joseph Cannataci, UN Special Rapporteur on the Right to Privacy, Malavika Jayaram, Digital Asia Hub; Francisco Vera, Privacy International; Jam Jacob, Foundation for Media Alternatives; and Juan Diego Castañeda, Fundación Karisma.
Both Foundation for Media Alternatives (The Philippines) and Fundación Karisma (Colombia) are also partners in the Privacy International Network, which since 2008 has used its emergent expertise and research to generate educational material, advocacy campaigns, and strategies that will support the development and sustainability of a global privacy movement.