Privacy International's response to the UK Parliament Joint Committee on Human Rights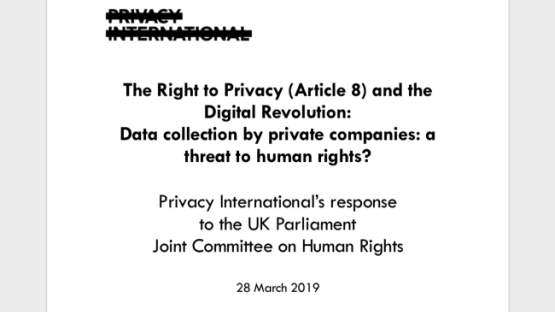 In March 2019, Privacy International responded to a call for evidence for an inquiry by the UK Parliament's Joint Committee on Human Rights into "The Right to Privacy (Article 8) and the Digital Revolution".
Our suggestions included that, the human rights framework should support:
Increasing individuals' control over their data to encourage the design of technologies that protect peoples' autonomy and privacy.

Increasing security to result in more rights and protections for individuals and constraints applied to powerful entities.

Creating further restraints on potential abuses arising from the vast accumulation of data.

Further limiting how data is used to construct profiles and to make decisions about people, groups, and societies.

Redress mechanisms for individuals, groups and civil society representing their interests.

Joined up investigations and actions by National Human Rights Institutions together with other regulatory bodies, such as data protection and competition authorities.