Minimum safeguards on intelligence sharing required under international human rights law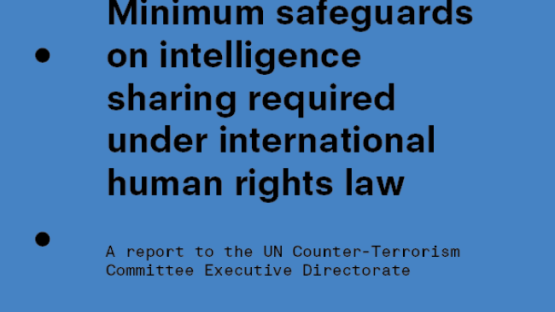 Faced with the transnational dimension of terrorist-related activities, United Nations Security Council resolutions have emphasized the need for international cooperation in information-sharing, both for the purposes of collecting intelligence and judicial assistance.
Privacy International recognises the importance and benefit of intelligence sharing in the context of preventing and investigating terrorism or other genuine, serious threats to national security. The organisation is concerned, however, that unregulated, unfettered and unwarranted intelligence sharing poses substantive risks to human rights and to the democratic rule of law.
Privacy International's research and comprehensive 2018 report shows that most countries around the world lack domestic legislation governing intelligence sharing, that most intelligence sharing agreements are secret and that independent oversight of intelligence sharing is inadequate.
UN Security Council resolutions recognize the need to ensure that measures taken to combat terrorism, including intelligence sharing, must comply with international human rights law. However, they give no indication of the safeguards necessary to ensure such compliance.
Privacy International believes that there is an urgent need to provide guidance to states, particularly in light of the fact that the counter-terrorism measures envisaged in UN Security Council resolution 2396 (2017) were adopted under Chapter VII of the UN Charter.
In its submission to UN Counter-Terrorism Committee Executive Directorate, Privacy International identifies some minimum safeguards that states must introduce in order to ensure their intelligence sharing laws and practices are compliant with applicable international human law. The briefing focusses mainly on states' obligation to respect and protect the right to privacy as enshrined in Article 12 of the Universal Declaration of Human Rights and Article 17 of the International Covenant on Civil and Political Rights.
Privacy International encourages the UN Security Council Counter-Terrorism Committee Executive Directorate (CTED) to consider these safeguards in their assessment of states' measures on intelligence sharing and their compliance with the UN Security Council resolutions.