Submission to House of Lords Committee on Democracy and Digital Technologies
Key advocacy points
In September 2019, Privacy International made a submission the the UK Parliament House of Lords Commitee on Democracy and Digital Technologies.
Advocacy
Post date
30th September 2019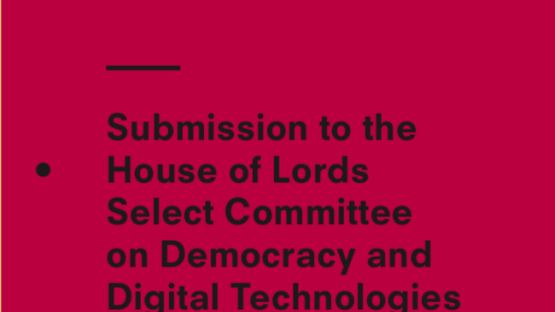 PI is increasingly concerned that democratic participation can be inhibited by novel and unhindered surveillance both by governments and companies. To safeguard our rights, earlier this year, we launched our work programme, Defending Democracy and Dissent, which aims to investigate the role technology plays in facilitating and/or hindering everyone's participation in civic society.
This submission to the House of Lords covers PI's views on:
How digital tech has changed the way democracy works.
The need for greater algorithmic accountability.
The need for greater transparency and accountability in online spending and campaigning of political groups.
The effect of online advertising on the political process.
The need to protect encryption and anonymity.
Risks that social media undermines the trust in the democratic process and what should be done.
The best ways of reducing the effects of misinformation on social media platforms.
How Government could better support the positive work of civil society.
What Parliament and Government can do to better use tech to support democratic engagement and the efficacy of the democratic process.