PI's submission to the UN Human Rights Committee regarding Colombia's compliance with ICCPR
PI's submission regarding Colombia's compliance with the International Covenant of Civil and Political Rights highlights concerns regarding changes in electoral law, the continued surveillance of human rights defenders, and the emergence of new OSINT tactics.
Achieved result
In its concluding observations, the Committee highlighted concerns regarding the unlawful surveillance deployed against human rights defenders and journalists, as well as the use of social media monitoring by Colombian authorities in the context of protests.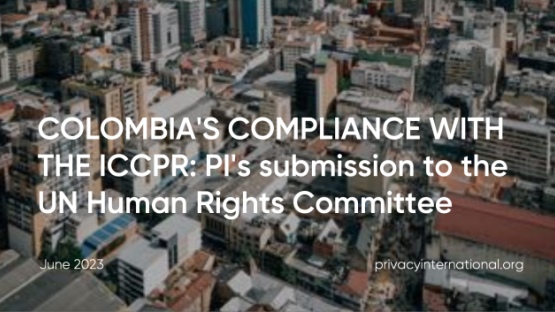 In June 2023, we made a submission to the Human Rights Committee ahead of its 138th Session in relation to Colombia's compliance with the International Covenant on Civil and Political Rights (ICCPR).
We called on the UN Human Rights Committee to make the following recommendations to Colombia:
The Electoral Law should ensure that the electoral register does not include personal data other than what is required to establish eligibility to vote. The law should define the minimum standards of security to protect the voters' register against unauthorised access; it should also define the conditions and limits of sharing and access to the personal data. In particular, biometric data (including photographs) must not be used for anything other than the stated purpose in law and subjected to additional protection against unauthorised access or other data breaches, including storing biometric data separately from other personal data.
Review and amend national legislation to ensure that interception of communications by intelligence agencies and other security and law enforcement forces comply with the principles of legality, necessity and proportionality and provide for effective, independent oversight, prior judicial authorisation and access to effective remedies for unlawful surveillance, in line with Article 17 of ICCPR.
Adopt precise legal framework to govern the collection, analysis and sharing of social media and open source intelligence (including the activities known as cyberpatrolling) that clearly define permissible grounds, prerequisites, authorization procedures and adequate oversight mechanisms.