Egyptian Government Wants Surveillance System To Monitor 'Destructive Ideas' On Social Networks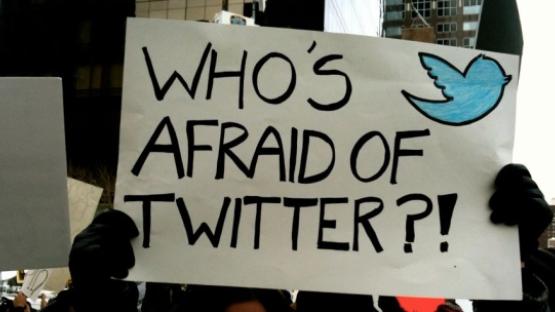 Earlier this month, only a few days before the new president of Egypt was sworn in, leaked documents from the Ministry of Interior revealed that the government is trying to acquire mass surveillance equipment capable of monitoring social networks such as Facebook, Twitter, and YouTube.
While being billed as a way to monitor social media in order to "monitor security hazards in social networks" and "identify persons representing a danger on society" (sic), past and recent actions by the Egyptian government demonstrate that democracy activists, political dissidents, and journalists are likely to be targeted. Just this week, prominent democracy activist and writer Alaa Abd El Fattah was sentenced to 15 years on trumped up charges for "illegal protesting and attacking a police officer." Fattah, who has been jailed repeatedly for his activism, was arrested outside a Cairo courtroom after being prevented from attending his own trial and sentenced in absentia.
Given the crackdown that has occurred under ex-army chief and now President Abdul Fattah al-Sisi, it is frightening that the government will possess a surveillance system with the ability to monitor individuals, groups and organisations on social media around the clock. While the White House has asked Sisi to carry out human rights reforms, U.S. and European governments must also cease the export of the Western-built tools that enable human right violations in Egypt.
The Social Networks Security Hazard Monitoring System
The copy of a call for tenders, leaked to the government-tied media outlet El Watan, asked for surveillance companies to submit plans for building an open source intelligence system called the "Social Networks Security Hazard Monitoring system". The purpose of this system is to "conduct wide searches on various networks to find everything that is a violation of the law, the spreading of destructive ideas that help spreading chaos, tensions and corruption in society."
In the document, the Ministry of Interior lays out what these "destructive ideas" are:
…blasphemy and skepticism in religions; regional, religious, racial, and class divisions; spreading of rumors and intentional twisting of facts; throwing accusations; libel; sarcasm; using inappropriate words; calling for the departure of societal pillars; encouraging extremism, violence and dissent; inviting demonstrations, sit-ins and illegal strikes; pornography, looseness,  and lack of morality; educating methods of making explosives and assault, chaos and riot tactics; calling for normalizing relations with enemies and circumventing the state's strategy in this regard; fishing for honest mistakes, hunting flesh; taking statements out of context; and spreading hoaxes and claims of miracles."
The document specifically asks that the system have the ability to analyse and monitor Twitter, Facebook and YouTube, but says that it would be a plus if the provider could offer support on "more social networks (Instagram, LinkedIn, Google, Viber, Whatsapp...)."
Turning social media in intelligence resource
The proposal details the government's plan to implement a broad and systematic approach to open source intelligence gathering, turning social media in Egypt into an intelligence resource for the authorities. The government's tender document shows that it is seeking to:
identify what the current and past "hot topics" are for the region and who is accessing content related to these topics;
identify who the influential actors are in every region and how do they interact with others;
analyse opinions and trends inside social networks;
assess the evolution of a person's opinions by looking at current and old posts and their development through time; and
search for "keywords that constitute a violation of the law and public moral, or that do not fit into norms and societal ties"
The government is also seeking to allow analysts to create an "unlimited number" of user accounts to interact with social media users, which would allow them to actively infiltrate and interfere with groups. According the to document, this is so authorities can be "able to communicate and interact with aware and zealot young people to monitor destructive ideas spreading on social networks, and consider how to refute and confront them."
Complicit in the crackdown?
The Egyptian government is specifying that the "system is required to have been tested in other European or American countries, and to have taken part in international security trade shows", raising once again the issue of surveillance technology exports from Western countries to the Global South.
According to information obtained by Reuters, seven unnamed foreign companies have submitted bids for the project. While the companies identities are currently unknown, Privacy International's Surveillance Industry Index features documentations from several companies, all from Western countries, offering the exact or similar servicesoutlined in the tender documents.
This is why for some time we have been advocating for the need for export controls to be placed on the very systems Egypt is now trying to acquire, due to the fact that they enable human rights abuse. If controls were in place, surveillance technologies would not flow into Egypt.
For various geopolitical reasons, the US and European countries have a record of taking a soft stance toward Egypt when it comes to successive governments' poor human rights record. Sometimes the U.S. and European governments use stronger language regarding abuses but neglect to followup.
After the recent elections, the White House released a statement saying that they were looking forward to working with the new Egyptian president, though they "share concerns raised by observation groups about the restrictive political environment in which this election took placeafter the recent elections". It continued: 
We have consistently expressed our concerns about limits on freedom of peaceful assembly, association, and expression and call upon the government to ensure these freedoms as well as due process rights for all Egyptians.  …  While elections are an integral component of a democratic society, true democracy is built on a foundation of rule of law, civil liberties, and open political discourse.  We urge the President-elect and the government to adopt the reforms that are needed to govern with accountability and transparency, ensure justice for every individual, and demonstrate a commitment to the protection of the universal rights of all Egyptians."
The lack of specific mention of surveillance is worrying, particularly now that we have insight into the new government's ambitions. Nonetheless, while the White House acknowledges the importance of freedom of association, open political discourse, and the rule of law, these are all threatened by the surveillance technologies made in Western countries and exported with the governments' knowledge.
Surveillance systems like these pose a serious threat to those like Alaa who are struggling to turn Egypt into a more free and open society. While we condemn the Egyptian government for seeking out mass surveillance systems, the West should not be complicit in the tracking and targeting of the Egyptian people.
Privacy International would like to thank Amr Gharbeia for his help and the translation of the call for tenders.