Surveillance Industry Index: Surveillance as a consultancy service
News & Analysis
Post date
26th November 2013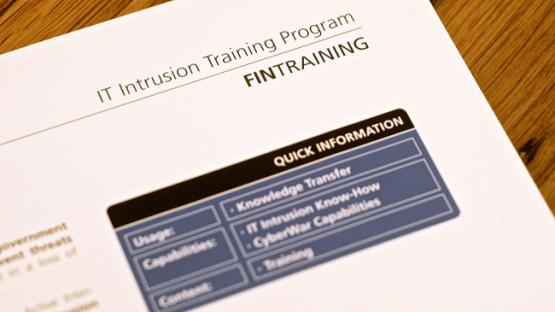 Let's be clear: private surveillance companies are not just selling a product. Companies do not merely pack their product into a box and put it in the post. More often than not, surveillance firms sell a consultancy service, one that actively provides pre-sale consultancy, installation of the product, and training on how to operate the technology. When the product breaks, companies often provide ongoing technical support, with some companies sending over of consultants for up to 18 months to provide in-depth support to agencies. A number of companies also operate 24/7 support lines for agencies to contact with their queries.
The consultancy services provided must not be overlooked. Indeed, it is just as dangerous as the technology itself and increases the level of complicity in the perpetration of human rights abuses between Western surveillance companies and the regimes that make up their customer base.
Within the Surveillance Industry Index there are 86 brochures that offer training services in some capacity, such as onsite training of interception technologies.Utimaco, for example, specifically offers a range of on-site training and 24/7 support services to their customers. This brochure clearly demonstrates that they are not just boxing the technology and sending it to a postal address. They are involved intimately with the provision of the technology, its use and its maintenance.
Now lets look at Elaman. The company represents a varied network of surveillance companies and offers a host of training courses across all types of products. In this example, we see Elaman offering training in using Gamma's FinFisher trojan, a training course that moves from introduction to hacking, to working with exploits and all methods that FinFisher could be delivered onto a system. What's more, Gamma have also begun to offer their own training courses, known as FinTraining, that are "fully customised according to the end-user's operation challenges and requirements."
Why is this level of training and support so widespread? Simply put, it appeals to countries that don't have the technical knowledge or capacity to build a system themselves. However, by looking at the type of training courses available, we are given an indication of the customers the surveillance companies try to attract.
They are countries with a pre-existing communications infrastructure, but have an underdeveloped surveillance complex and are willing to spend money and invest resources in achieving the aim of surveillance. Recently we have seen tenders from Nigeria to provide mobile phone surveillance and e-mail monitoring capabilities, and India for Blackberry monitoring software. In the past, services have also been provided to Syria and Iran.
As well as training courses, support services like helplines and consulting services are also prevalent. ETI says that they consider training "an integrated part of the delivery" of its services. BEA boasts that it works closely with its clients to develop and refine their products. BEA offers a "round-the-clock" support service. Nice Systems provide the most comprehensive of consulting services, offering up to 18 months of consultancy tailored specifically to the customers' needs and working closely with the customers to meet their individual requirements.
Surveillance companies don't sell their products blindly; they usually know how their technology will be used by a client.
All this means that the company cannot claim ignorance of how their products are used. They know who they clients are, they know how they want to use them and they'll be aware just how powerful their equipment  can be if they are used to facilitate human rights abuses and internal repression. Denials by surveillance companies, claiming lack of knowledge of how their products are used, must be rejected for the fabrication it is.