Being a target: Sofía de Robina
PI spoke to Sofía de Robina, staff lawyer at Mexican NGO CentroProdh, about her organisation's experience of surveillance.
Case Study
Post date
23rd October 2020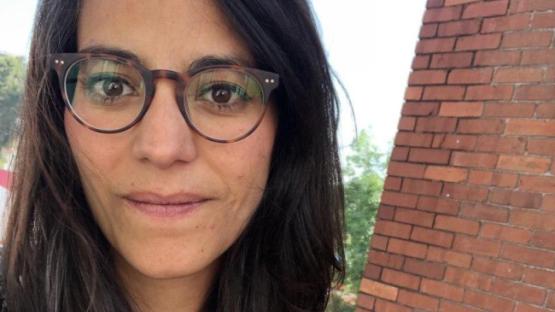 Centro Prodh is a non-profit civil association which promotes human rights, and has been involved in some of the most emblematic cases in Mexico. The impact of their work is only matched by the severity of surveillance threats they face. In his end-of-mission statement after a visit to Mexico, the former Special Rapporteur on the situation of human rights defenders expressed specific concern about Centro Prodh in light of its being targeted for its work on enforced disappearances, extrajudicial killings or torture.
Qn: Please briefly describe your work and/or activism and the issues and questions that you address.
I am a lawyer at Center Prodh's international area. We are organized into several areas, with the defense area playing a central role. We also have the international area, which supports the documentation of cases and also international litigation in the Inter-American System and also before the United Nations, sends information to different international actors, from agencies and organizations to embassies, and provides overall assistance to the cases we support as a team at Center Prodh.
Center Prodh works with a comprehensive defense methodology that allows all the areas to contribute to defending cases where we provide legal accompaniment to litigation, cases concerning serious human rights violations including preventative cases to defend land and territory and rather structural cases that involve citizen security.
Mostly, the incidents have been closely connected to the accompaniment of landmark cases like Ayotzinapa, Tlatlaya and Atenco, because of their media and social impact and the actors involved, from the armed forces to political actors. And the incidents we have suffered relate to this aspect of our work.
Qn: How would you define surveillance?
I would say it is a form of intrusion, of entering the sphere where a person lives and works without deciding to make that information public, and it is a human rights violation, a violation of the right to privacy that impacts many other rights and even work strategies. It is interfering without a person's permission, and therefore an aggression against the sphere of their life and work.
Qn: What types or forms of surveillance or harassment, either by digital or analogue methods, have you experienced?
Historically, Centro Prodh has experienced, through the representation of landmark legal cases, very tense moments with both local and federal governments and authorities. In the past, there have been cases where –for example, the case of the environmentalist campesinos, which was one of the first cases involving the armed forces to be litigated in the Inter-American System, and which generated a lot of tension with the armed forces. There was also the case of Digna Ochoa, which had many repercussions for the institution and resulted in Centro Prodh being granted protective measures in 1999.
The Environmentalist Campesinos case concerned two environmentalist farmers, Rodolfo Montiel and Teodoro Cabrera, who spearheaded an activist organisation defending the forests of their region against the illegal logging of trees. Their victories earned them several environmental awards; but also reprisals from the State. In 1999, Rodolfo and Teodoro were arbitrarily detained and tortured by elements of the army. They were forced to sign self-incriminating statements and then sentenced to prison for crimes they had not committed: carrying prohibited weapons and growing marijuana.
Digna Ochoa. Photo by bianca francesca, CC BY-NC-SA 2.0
Digna Ochoa was a human rights lawyer who worked closely with Centro Prodh on cases relating to serious human rights violations by government authorities. She was murdered on October 19, 2001, at her office in Mexico D.F. Previously, she had been the victim of threats, harassment, and physical attacks.
More recently, we have seen physical surveillance incidents of an old-fashioned nature in relation to the Tlatlaya case. The case concerned extrajudicial executions that took place during what the government called an insurrection, but what was in reality the execution of an unspecified number of people by armed forces, including the daughter of Clara Gómez, whom we represent.
On June 30, 2014, 22 civilians were killed at a warehouse in the town of Tlatlaya, Mexico. The government's side of the story was that the military had engaged in 'clashes' with a drug trafficking gang. This account has been widely discredited, not least by a report by the Mexican National Human Rights Commission, which found that at least 12 of those killed were extrajudicially executed.
This case in particular led to surveillance incidents because the armed forces have historically been one of the actors we encounter the most when we work on cases. Constantly, when new information emerged about the case, when there was a press conference, or around the time of the anniversary of the killings, there was surveillance outside the offices. Many times, we would see people taking pictures, or hanging around the office on dates when they knew there was a development in relation to the case. Clara had to leave her territory because of the situation, and specific protective measures were granted in her case because she is a survivor and the one who raised her voice and told us about the case. And Centro Prodh started being subjected to this type of surveillance. This led us, in light of the specific protective measures that Clara has, to inform the Inter-American Commission and the United Nations about these incidents. When both the Tlatlaya and Ayotzinapa cases were at a very critical moment, the United Nations ordered precautionary measures to protect Center Prodh. These measures did not yield specific changes at that time because we decided we didn't want patrols outside the offices for policy and risk-management reasons, but it was a political call from international organizations that gave visibility to the fact that the case led to surveillance incidents in our work.
We kept a log to document every occasion where we spotted strangers taking pictures of the office, etc. As often happens with human rights defenders, we minimized these incidents, or took our safety for granted. Still, we adopted measures and developed protocols. For example, nobody could leave the office when the situation was critical, and little by little this started to become part and parcel of the cases we handled.
We also experienced equipment failures, internet failures and server failures on multiple occasions. We later assumed, in light of the broader context, that these failures were connected to surveillance incidents. Pursuant to that, SocialTIC and Access Now analyzed our servers to strengthen them and helped us to develop adequate digital security protocols in the building. And they did detect several attempts to access the servers and to tamper with the website, which went down several times. We experienced some of that during those years. And despite everything, we were able to get that answer thanks to the colleagues who work on those issues.
Photo by Atoq Wallpa Sua, CC BY-NC-SA 2.0
Previously, during the Ayotzinapa defense in 2016, our then deputy director had a call with some of the parents in the case. That call was leaked and decontextualized, implying a connection between Centro Prodh and organized crime, which was untrue. At the time, this incident was alarming in a number of ways. Although we had experience with more physical and traditional forms of surveillance, we felt a change when the call was leaked, because it signified a higher degree of intrusion. What was worrying was not knowing how much information these malicious actors had and how they planned to use it. The team's main concern was the risk this intrusion implied for the families we were supporting and our own litigation strategies.
On September 26, 2014, 43 male students from the Ayotzinapa Rural Teachers' College were forcibly abducted and then disappeared in Iguala, Guerrero, Mexico. This mass disappearance, which remains under investigation, is known as the Ayotzinapa case. The criminal investigation that ensued was plagued with irregularities. The Mexican government claimed that a cartel was responsible for the kidnappings; however, an investigation carried out by the Interdisciplinary Group of Independent Experts of the Inter-American Commission on Human Rights found that local police had also been involved. To date, the exact events of Ayotzinapa remain unclear, and the students have yet to be found.
This call was before we knew about Pegasus. When we found out about Pegasus, it all started to make sense. We didn't have confirmation that the call could have been obtained by Pegasus, but the affected colleague had received one of the suspicious text messages before. Even if unrelated, at least it showed us there was a much stronger and greater intent to get that information and use against us if necessary. In late 2016, we were contacted by R3D to tell us they were documenting these cases and that they assumed the Mexican government could be interested in spying on us and that we should check our cell phones. That's when we started paying attention, and indeed some colleagues had received suspicious personalized messages. Clearly these messages were created using social engineering, which increased the odds that we would click on it, instead of the typical "you've won a car" message. It was clear that an entire machinery, and significant prior knowledge and prior information were required to craft these messages in such a way that they would appeal to the reader.
Pegasus is a form of mobile phone spyware developed by Israel-based NSO Group known to have been used against activists, journalists, and human rights defenders. To infect the target mobile device, a government operator sends a specially crafted message to convince the target user to click on a link which, once clicked, 'infects' the phone by installing Pegasus without the user's knowledge or permission. Once Pegasus is installed, it can send the target's private data to the operator, including contact lists, calendar events, text messages, and live voice calls from popular mobile messaging apps. The operator can even turn on the phone's camera and microphone to capture activity in the phone's vicinity.
When the scale of Pegasus was explained to us, we began to worry about how far it could the intrusion could go, and to think about the impact beyond the team, both in terms of our family and the people we support as part of our work. We began to ask ourselves how far this issue had spread, and in what ways it could impact the people we accompany. As a human rights organization, our information is public: our financial information, who we defend, and why we defend them. We were left wondering why they needed confidential information, if it was to stay ahead of us in terms of strategy, or to continue intimidating us. That's the underlying question – what do they want to do with this information?
For us it was important to have the support and accompaniment of SocialTIC and Access Now, because they helped us defend ourselves the entire time and to continue doing our work. We are victims, but at the same time other organizations are supporting us.
Qn: What is the cause of these incidents?
It definitely relates to our work and the degree of tension it generates among the actors who may be involved. A large part of our work is exposing the things that are not being done correctly, and there are groups that are interested in inhibiting and intimidating the work we do. This very much relates to the interests involved in the cases we defend, that historically have been deeply entrenched, and the fact that the actors pursued have felt untouchable given the level of impunity we have in this country.
Qn: Were you able to identify the people or entities behind these incidents? Were they associated with the public or private sector, or both? If you could not identify the authors, what are your suspicions?
We don't know who was behind these incidents. Based on the context or the timing of these incidents, assumptions can be made – for instance, in the Tlatlaya case, the focus was on the conduct of the armed forces. But we don't know for certain where the attacks could have come from. It's different with Pegasus, where there are many more presumptions, but little avenues to pursue redress. Following the Pegasus incident, we filed a complaint before the Attorney General's Office, which oversaw the now dissolved Criminal Investigation Agency, which was one of the agencies we identified as likely responsible for the incident. For this reason, we knew that it would be almost impossible to obtain answers, but we still thought it was important to file the complaint as a measure to find out what information was accessed, what information has been retained, and where. This investigation is still open. Beyond reducing the list of potential perpetrators, we don't have specific names, only presumptions.
We don't know for certain that private actors have been involved, as we link the surveillance incidents primarily to state actors. The government relies on companies in many other ways, for instance, the privatization of activities. Surely in this transition, many of the actions related to surveillance could have an expanding connection to private actors. Of course, actors can become so intertwined with one another that at some point it becomes difficult to distinguish them, and one is not able to tell where one ends and another begins.
Qn: How has the surveillance and harassment experience impacted your work? 
It was difficult to understand what was happening, and there was an added layer of complexity when these strategies became more digital. Knowing we were vulnerable in a setting where we were already at a significant disadvantage was also a recognition that we needed to keep up to date with these new challenges and have allies. One of the more serious consequences was seeing how the threats went beyond the personal and could have an impact on the families and people we supported. What drives our work and our actions is the people we represent, so having to put the spotlight on ourselves was difficult.
Beyond that, we had to dedicate time, effort and even money to strengthen ourselves in terms of digital security across the full spectrum of our work, from the conceptualization of projects to acquiring suitable cell phones to mitigate the risk of interception. This was a significant issue from an institutional point of view.
Qn: What impact has surveillance and harassment had on your personal life?
As a team, we experienced a sense of great uncertainty and fear that confidential information would be leaked any day, whether real or misrepresented. Although we have nothing to hide, we know that any information that is intercepted can be used by the perpetrator in ways that affect us, such as distorting that information, or using it to intimidate the claimant family. It was a strong blow to feel constantly at risk, which eroded any sense of security.
Even then, it was difficult to highlight surveillance as an important issue in light of the high numbers of journalist killings. We are alive after all. Centro Prodh is in Mexico City and we have contacts and connections to support us, but this is not the situation that most defenders experience in the states in Mexico. Colleagues and other human rights defenders have not been so lucky, and we found it difficult to assign importance to this issue because we did not want to stop giving the most serious cases the priority they deserve. However, this awareness prompted us to recognize that this type of surveillance is the tip of the iceberg, and shining a light on it can help bring visibility to the people who may be at much greater risk.
Qn: Have you ever sought help from the authorities? If not, why not? If you did approach the authorities, what was the outcome?
We discussed these incidents in meetings and political spaces to raise awareness on the situation. When the UN committee expanded the precautionary measures so they would apply to Centro Prodh, authorities approached us to ask if we wanted that to materialize by way of inclusion in the government's protection mechanism for human-rights defenders or if we wanted guards outside the office. We decided we didn't want any more presence from state actors, based on the risks their presence in and around the office could entail, but also because it could inhibit the people who continuously come to this office for advice, such as the families of the Ayotzinapa victims, for whom Centro Prodh was a home before the quarantine. Rather, our demand was that the behavior should be stopped, and that if they had information, they should share it. We sent information on our experiences of surveillance and intimidation to international organizations, and that always comes back to the state one way or another. In that sense, the government knew about the surveillance that Centro Prodh was facing all along.
In relation to surveillance that was more physical, for example outside the office, we did not do anything in terms of reporting because we didn't think it would be helpful. We considered the eventual result would not be proportionate to the effort involved in a criminal trial. However, we always sought to document, not only internally but also in the reports sent to international bodies, so that there would be a record, and if something escalated, we would have the necessary evidence.
In the Pegasus case, the same day that the cases were made public, the criminal complaint was filed with the Attorney General's Office (then PGR) and a complaint was filed with the National Human Rights Commission. In the end, we felt these incidents had to be investigated, and that there was a lot of information we needed to know. These complaints were filed at the very beginning, and investigations are ongoing. The complaint was filed before the Special Prosecutor's Office for Crimes against Freedom of Expression (known for its initials in Spanish as "FEADLE"), a unit within the Attorney General's Office that investigates crimes against journalists. Their immediate response was asking us to hand over our cell phones for investigation-related purposes. We refused. To this day, that refusal is used as a justification for the lack of progress in the investigation. It's the perfect excuse.
There is natural mistrust between us and them. But in technical terms, cell phone analysis is not the best way to investigate Pegasus, because the software can self-destruct and it's possible that nothing will be found. Even if authorities accessed our cell phones, the reality is that the investigation would be closed if nothing was found. And It is very likely they won't find any traces because of Pegasus' level of concealment and self-destruction. Though this investigation has been open for three years, no significant progress has been made. And there have been problems. For example, they took a long time to carry out the procedures we requested. With the help of CitizenLab and R3D, we put to them a series of steps to take to further the investigation, which they refused to agree to. We had to take the matter before a judge, who ruled in our favor and decided that the evidence we filed applications for had to be collected. At another point during the investigation, the work of FEADLE members was internally obstructed. This shows that even within the Attorney General's Office, there are different approaches at work, and it's not a homogeneous institution.
The National Institute for Transparency, Access to Information and Personal Data Protection (INAI) opened an investigation on the incident on the basis of an alleged breach of data protection laws. As part of its investigation, the INAI found some responses from the Attorney General's Office that appeared to be irregular, to the extent that there were inconsistences between the Attorney General's Office responses and what was in the files. We have flagged these inconsistencies as issues that should be investigated as a possible obstruction of justice. We felt the authorities were looking for any reason to close the investigation, and we knew that it was not going to move forward. What is very clear is that even the lawful use of the Pegasus software leaves much to be desired, because of all the irregularities in its operation, the lack of registration, etc. R3D is emphatic in stating that not only is it necessary to uncover the truth as a guarantee of non-repetition, but that many more structural changes are needed in the legislation to ensure that these types of tools are not used arbitrarily.
Qn: In your country, what are the obstacles faced by human rights defenders when trying to access justice?
In general, access to justice is one of the most worrying human rights issues. International organizations and agencies have cited impunity as one of the issues that sustains the surveillance crisis, a persisting issue despite the change of government. There is widespread inertia in the authorities responsible for investigating crimes, either because they are not accustomed to investigate, or because they rely on unlawful methods such as torture. Access to justice in general is complex, but there is always a differentiated impact on vulnerable groups. And in the case of defenders, there are challenges especially associated to investigations involving state actors. What has been documented by those who work specifically on defenders' issues is that in the vast majority of cases, there are still authorities involved. Investigating cases that could somehow point to the authorities themselves when the independence of the state and federal prosecutors' offices is not guaranteed, reflects the limits of the effectiveness of complaint procedures.
In terms of surveillance, there are challenges that stem from the nature of the threats and aggressions, for example the difficulty of documenting a case like Pegasus, mostly from a technical perspective. We also have encountered many difficulties with the experts themselves, who are often not even trained in this type of surveillance tool.