5: Creating educational resources
If you are interested in creating your own teaching material, that's great - the world needs more and imaginative educational resources. In this chapter we collect some recommendations for future content based on our research and practical experience.
Course Section
Post date
5th September 2022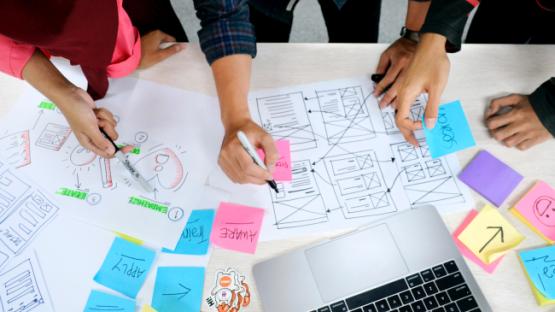 We often get asked by others who are interested in creating educational resources about data, what they should consider as they develop their own critical data literacy resources for sharing with others.
The resources that exist out there are excellent, but they always have their limitations. What you develop will help because, as we've said in previous chapters, we find what works best for students is when
the content is relevant to specific audiences, i.e. your students! their context! their languages!
the content is up to date and renewed, i.e. your curriculum and your scheduling!
the resource is accessible, i.e. you know the tools and tech your schools and students have access to
the approach creates personal involvement, i.e. you know your students, their level of interest, the level of 'fatigue' they may have with issues, and their experiences.
Here we collect some recommendations for future content that you may want to include in your own:
Do you know what is your objective for the resource? -- Who are you trying to help and for what purpose?
Is the resource sustainable and relevant? -- Take a long view to the content you are creating and explore whether it will be useful in five years time, and what work needs to be done to make sure it is still updated and maintained
Is the resource accessible to diverse audiences? -- Not everyone has the same devices, connectivity, time and other resources, so what kind of content formats are there and will they be usable on lower cost devices, or less stable internet connections?
Is the platform upon which it is built stable and protective? -- Online educational platforms and social media platforms may be useful for reaching people but if you are forcing students on to these platforms to access your content then you are opening the students up to the very same data challenges that your teaching is likely trying to address.
Have you tested the approach, platform and content with students to see if this works before you share more openly? Having their input is invaluable.
Have you identified what you would consider a meaningful achievement of this resource? -- This could be the number of views of any part of the resource, or completed educational journeys, or geographic spread.
Finally, some content issues to keep in mind:
Don't be too negative, as fear may get attention but it won't necessarily help people learn
Use stories to help relay understanding
Support people in forming their own opinions rather than telling them what to think
Focus on fun, engaging, and accessible content!
We hope that this overview on reasons, recommendations and resources for teaching about data was helpful to you. Feel free to share this website with your colleagues – the more educators address topics around data in their teaching, the better! If you are interested in diving deeper into the topic, have a listen to our Technology Pill podcast episode where we speak with with Ina Sander on how to teach 'critical data literacy' in schools.
You are also welcome to get in touch with us if you have any thoughts on what we say here, or want to devise your own resources! Good luck!
Go to previous chapter. Return to the table of contents.
Related learning resources