Take part in our #spypolice campaign!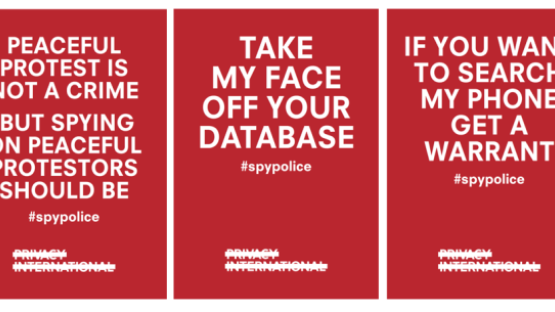 TO TAKE PART IN OUR CAMPAIGN, RIGHT CLICK ON THE PICTURES BELOW, SAVE THEM, AND SHARE THEM ON SOCIAL MEDIA TAGGED #SPYPOLICE
Have you ever been to a peaceful protest, demo or march? Did you assume that the police would only be identifying 'troublemakers'? How would you feel if just by turning up at a peaceful protest, the police automatically identified you, without your consent or knowledge, and stored personal information about you (including photographs of your face) in a secret database? Do you think that would be excessive? Anti-democratic?
If you agree that the police's use of such spy technology should be properly regulated, and that the public should be consulted about the use of such intrusive technologies in public places, then please join our campaign against #spypolice.
Using IMSI catchers at protests and public events, the police can track your phone
The police can use 'IMSI catchers' at protests and public events to locate and track every mobile phone in the area.

IMSI Catchers can collect data that identifies you and your location and can even intercept your text messages and calls. 

You won't know if the police

are using an IMSI catcher, you won't know if your mobile is being tracked right now,

and you won't know what personal data has been collected

.
Facial recognition technology means that the police have their very own Facebook, and if you go to a protest or demo, you might end up in it
The police can deploy facial recognition technology at protests and public events.

Your face may well be photographed and stored without your knowledge in a police database.

It means that

your face is now a

de facto

ID card.
Using 'mobile phone extraction' technology the police can digitally stop and search you
If the police take possession of your phone, they can use 'mobile phone extraction' technology to download all the content and data from your phone, including hidden and deleted data.

The police can do this without your knowledge or consent - whether you are a suspect, witness or victim of a crime.

The police might store your data indefinitely - even if you've done nothing wrong.

While the police would need a warrant to search your home, there is currently no requirement for the police to obtain a warrant to take data from your phone.