Obfuscation And Work Arounds: How The Intelligence Agencies Have Been Obtaining Communications Data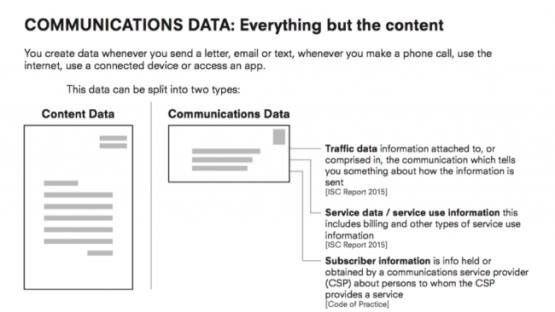 Privacy International's case on Bulk Personal Datasets and Bulk Communications Data comes to a head with a four-day hearing in the Investigatory Powers Tribunal which commenced on 26 July 2016.
The litigation has brought to light significant revelations about the use of section 94 of the 1984 Telecommunications Act to obtain bulk communications data.
Large amounts of disclosure have shed new light on this hitherto secret power and explained confusing aspects of the Government's Response to the litigation. Although as we set out below, this often leads to more questions than answers.
Here we look at one puzzling aspect in the Government's Response to the litigation, the omission of 'subscriber information' – the name and other identifying information of the person using a particular communications service -- from the types of communications data collected under the section 94 regime. Typically, communications data is split into 'traffic data', 'service use information' and 'subscriber information'.
As a result of disclosure and following the publication of Sir Stanley Burnton's review of section 94 we have a partial explanation for the omission of 'subscriber information' from the section 94 regime.  The short answer, is that until very recently subscriber information was being collected using section 94.  And even if it isn't collected now, that does not reduce the intrusiveness and potentially very revealing nature of the remaining communications data that is being obtained and retained on a mass scale.
Background
In November 2015 the Home Secretary, Theresa May, acknowledged for the first time that the Intelligence Agencies had been collecting bulk communications data ['BCD'] using section 94 of the Telecommunications Act 1984, aka 'section 94 Directions'.
Subsequently, in the course of PI's litigation, it was admitted that GCHQ have used section 94 to collect BCD since 1998 and the Security Service has acquired BCD from communications service providers ['CSP's] since 2005.
A CSP [referred to as a CNP by the Intelligence Agencies] can be a company such as BT, Vodafone or Virgin Media, that provides access to internet and telephony services through its network infrastructure. [Intelligence & Security Report 2013]
As stated by the Intelligence Agencies:
"Bulk Communications Data…involves large amounts of data, most of which relates to individuals who are unlikely to be of any intelligence interest."
What is communications data
You create data whenever you send a letter, email or text, whenever you make a phone call, use the internet, use a connected device or access an app. This data is split into two categories:
Communications data: the who, when, where and how of any communication including our internet activity and telephone calls. It includes, but is not limited to, visited websites, email contacts, to whom, where and when an email is sent, map searches, GPS location and information about every device connected to every Wi-Fi network.
Content data: the substance of the message (e.g. "Dear John, Thank you for your email . . . ").
The Intelligence and Security Committee in their 2015 report set out examples of communications data: