Aerostats, Biometrics, Chips, and Drones: UK Gathers Surveillance Industry to Solve Brexit Border Question
Long Read
Post date
18th March 2018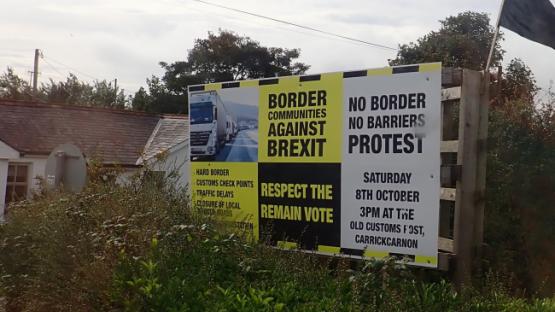 Image: Eric Jones
The UK government last week hosted hundreds of surveillance companies as it continues to try and identify "technology-based solutions" able to reconcile the need for controls at the Irish border with the need to avoid them.
The annual showcase conference of 'Security and Policing' brings together some of the most advanced security equipment with government agencies from around the world. It is off limits to the public and media.
This year's event came as EU and UK Brexit negotiators finally begin to outline concrete proposals regarding how the 310-mile Irish – UK border will look once the UK leaves the EU. At stake is not only the terms of the UK's withdrawal, but avoiding a return to violence in the island of Ireland and UK mainland – something largely avoided since the 1998 Good Friday Agreement, which among other provisions guaranteed an open border.
While both the EU and UK have agreed that there will be no return to a "hard border", and the UK Government has said it will be "frictionless", how this will be achieved remains a mystery. Although sorting out customs arrangements is the main issue, border security – policing the movement of people and goods – is also a central question.
If a technological solution to this does exist, it will have been on show at Security and Policing, described by the UK government as "the corner-stone of the security calendar" and "the premier platform for relevant UK suppliers to showcase the very latest equipment". 
The Verdict?
Unfortunately, simply throwing technology at complex political issues rarely resolves them; and in this case it is apparent that even if the most bombastic marketing claims were taken at face value, none of the tech on show would lead to a truly frictionless border while satisfying the UK's Brexit "red-lines".
Any solution would require physical infrastructure, waiting time, or be so intrusive that it would be illegal. 
And even if such a solution could be found, it ignores the broader political point: surveillance technologies are technologies of control, and political control is exactly what the Northern Ireland conflict was all about. Physical surveillance infrastructure, no matter how small, and security checkpoints, no matter how efficient, are still symbolic of control, difference, and division - exactly the opposite of what an open border represents.
Likely, a combination of hi-tech gadgets could be deployed to effectively monitor everyone and everything passing through the border, but at the expense of making it one of the most surveilled and militarised borders in the world; exactly what needs to be avoided. So with that in mind, compiled below is our take on some of the most relevant technologies on show. 
Automatic Number Plate Recognition (ANPR)
The use of ANPR on the border is a near certainty. ANPR cameras can capture vehicles' registrations to be then transferred to various databases owned by and retained for various periods – their excessive use is something which PI has successfully challenged. ANPR can be used for a range of applications, including parking and speed enforcement, but also to track the movement of vehicles, for example as they approach and go through a border. Jenoptik's ANPR tech for example can be used to analyse "white list / black list vehicles, non-return, overstay and prohibited …journey time analysis, speed, flow, stay time and many more reports."
RFID
Radiofrequency Identification involves the storage of digital data stored in tags which can then be read by a scanner through radio waves. This makes them particularly useful for tracking and authenticating objects in which they're embedded, which can be anything from passports to potatoes. For border security, they can be used as chips in ID documents which when scanned will retrieve information from relevant databases. They're regularly used for these purposes on the US – Canada border.
At Security and Policing was UK company TC SENS, makers of RFID tech specifically marketed for electronic toll collection, vehicle identification, and border crossings.
The use of both ANPR and RFID was suggested by a European Parliamentary report on prospects for the border post Brexit, but as anyone who's driven past ANPR cameras knows, they are physical infrastructure, and the use of RFID at borders still requires waiting - it would not be frictionless.
Visual surveillance
Visual surveillance used to monitor the border is about a lot more than just CCTV. Advanced persistent aerial surveillance systems developed for military use on drones, aerostats, or planes are being used to monitor entire cities from the skies, capturing detailed video images and transferring them to ground stations for analysis. The UK Ministry of Defence has already bought several 'pseudo-satellites' from defence contractor and exhibitor Airbus, which claims they are able to hover over a location from several miles for a period of weeks or months collecting detailed footage. Search Systems Ltd last week demonstrated their wide area surveillance system – supported by the UK Border Force – which is mounted onto an aerostat.
Other companies included Sesanti, whose LREO Advanced Long-Range Imaging System offers thermal imaging and claims to be able to identify vehicles in excess of 30km and people beyond a distance of 8km, and can be equipped with analysis tools such as identifying vessels through their AIS signal.
Qinetiq, formerly part of the UK government, sells cameras using "advanced passive millimetre wave" technology to detect hidden items such as weapons on people in crowds; the SPO-NX system has already been trailed in cooperation with the UK Home Office at an entertainment venue where it scanned up to 1000 people per hour. 
All of these systems require visible large physical infrastructure or systems designed for military use in combat settings.