We ask the Home Secretary why UK intelligence agencies have unlawfully analysed PI's data
Long Read
Post date
25th September 2018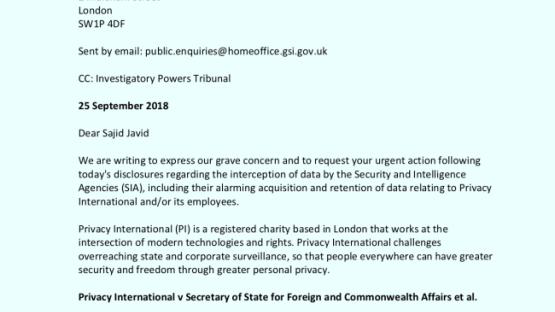 The UK's domestic-facing intelligence agency, MI5, today admitted that it captured and read Privacy International's private data as part of its Bulk Communications Data (BCD) and Bulk Personal Datasets (BPD) programmes, which hoover up massive amounts of the public's data. In further startling legal disclosures, all three of the UK's primary intelligence agencies - GCHQ, MI5, and MI6 - also admitted that they unlawfully gathered data about Privacy International or its staff. You can read the full press release here.
We have therefore written to the Home Secretary, Sajid Javid MP, to ask him to:
Confirm what changes he will make to the Investigatory Powers Act as a result of last week's ECHR judgement;

Instruct the security and intelligence agencies to provide to our Counsel and ourselves a full explanation as to why the agencies unlawfully held and analysed PI's data; and

Confirm whether he will take any action, including the prioritisation of additional safeguards and oversight measures, to ensure that charities operating in the public interest are not subject to unlawful surveillance by UK intelligence agencies.