Join our Supreme Court challenge against mass government hacking
Long Read
Post date
3rd December 2018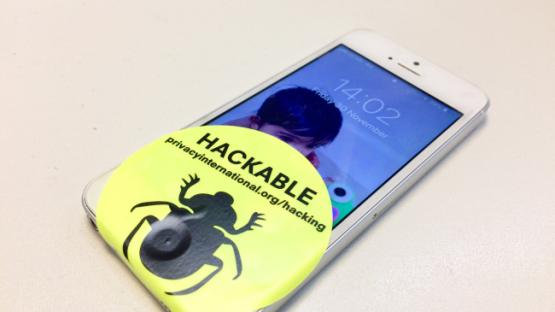 As our four year battle against the UK government's extraordinarily broad and intrusive hacking powers goes to the Supreme Court, we are launching a new fundraising appeal in partnership with CrowdJustice. 
We are seeking to raise £5k towards our costs and need your help. If we lose, the court may order us to pay for the government's very expensive army of lawyers. Any donation you make, large or small, will help us both pursue this important case and protect the future ability of Privacy International to fight for people's right to privacy all over the world.
Please contribute if, like us, you believe our intelligence agencies should not be treated as if they are above the law. Indeed, given the extraordinary powers they have to peer into our personal lives, they must be fully accountable to us through the courts.
Our lives are hackable
We lead more and more of our lives online - talking with friends, seeking romantic or sexual partners, managing our finances, sharing our political opinions. And our lives are increasingly digitised - our photos no longer sit in a physical photo album but are stored literally in their thousands, on our phones and computers. All of this information is hackable. Having your phone or computer hacked is like having your home ransacked, but secretly and imperceptibly.  
Extraordinarily, GCHQ, the British government's signals intelligence agency can hack your devices even if they don't have a specific warrant to target you. Instead, under a 'general warrant', they can hack literally thousands or even millions of phones and computers. Indeed, in our case, the Government has acknowledged that it has the power to use a single warrant to hack every mobile phone in a UK city. And you may never know if and when your sensitive digital data was accessed.
The UK government wants to limit our access to justice
Incredibly, the UK government wants to prevent the general courts from even hearing our concerns about whether such extensive hacking is lawful. So much is at stake for both your privacy and access to justice that our case is now being considered by the highest court in the land, the Supreme Court.  
Privacy International's case arose from a decision by the Investigatory Powers Tribunal — a specialised court set up to hear complaints against government surveillance, including by the UK intelligence agencies — finding that the UK government may use 'general warrants' to hack potentially thousands or even millions of devices, without any finding of individualised suspicion. Before the Tribunal, the Government made the extraordinary admission that it would be lawful in principle to use a single warrant to hack every mobile phone in a UK city — and the Tribunal agreed with the Government.
Over the last four years Privacy International's case has gone from the Tribunal to the High Court, followed by the Court of Appeal, and is now at the highest court in the UK, the Supreme Court.
At issue before the Supreme Court is the UK Government's dangerous submission that decisions of the Tribunal are not reviewable by the ordinary UK courts. A victory by the Government would be a significant blow to the rule of law because the ordinary courts serve to correct legal errors and to prevent specialist tribunals from operating without accountability. This principle is particularly critical in the surveillance context, which, because of its inherent secrecy, has long presented acute accountability challenges.
This case is really important not just for our personal privacy, but also for our access to justice, and also to correct a dangerous imbalance of power between the state and individuals. Any contribution you can make to our appeal will help us to fight governments and corporations who undermine our privacy, freedom and autonomy.