Life under 24/7 GPS surveillance - A GPS ankle tag experiment
GPS ankle tags are used around the world in the criminal justice and immigration enforcement sectors, to monitor people's location 24/7. How do these tags work? What's the impact on people made to wear them? We've tested some to find out.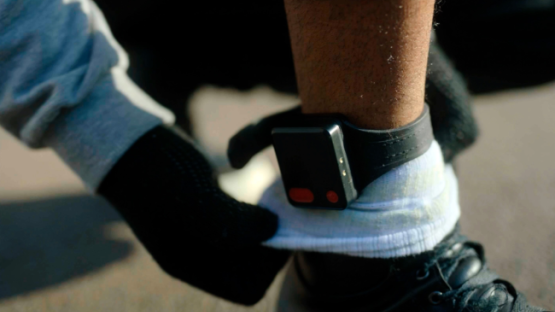 With the introduction of GPS tracking of people on immigration bail, the UK has recently put GPS ankle tags, and their potential privacy and security issues, under the spotlight. PI has exposed the intrusive nature and shortcomings of these devices through technical explainers and complaints to the UK data protection and forensic science regulators.
But, what better way to understand the risks associated with a device than to actually use one? In order to further consolidate our understanding of GPS tags and expose their problematic features, PI procured two GPS tags and tested them in real conditions.
This investigation has given us a unique insight into the problems that can arise from using such devices and the consequences they can have in a real life situation. In this article we'll show concretely what using a GPS tag looks like, explore the features offered by the devices we tested, expose the issues we've encountered and how they could negatively impact the wearer. We hope this experiment will shine a more concrete light on the harms they can create and provide useful understanding of their functioning, for anyone seeking to challenge the use of GPS tags by authorities around the world.
In this experiment we acted both as controller and wearer of the device - so whenever we refer to what an "authority" can do, we mean whoever controls the device.
Disclaimer: This experimentation was led in a controlled environment by PI staff members who gave their consent for their data to be collected, processed and used within PI's work. Should you want to reproduce this experiment we recommend carefully assessing the security features and terms of use of the device.
A quick overview of the tags used
Much like any connected device today, GPS tags come in many shapes and forms. While access to models used by governments is usually limited and only available through public procurement contracts, it's possible to obtain alternative products with similar specifications. To get a better understanding of what different models can offer, PI procured two GPS tags: the Megastek Technologies MT60X and the ThinkRace TR40. Despite offering fairly similar features, the differences between those devices are significant.
Megastek Technologies - MT60X
The MT60X only offers GPRS connectivity (or 2.5G, an older and slower standard than 3G or 4G to connect to the internet through cellular network) and IP67 rating (meaning it can be used in a shower but not submerged - note that none of the devices were tested under water). It offers a fairly short battery life which translated into 20 hours of use between charges. This is in part because of its much smaller 750mAH battery but also possibly because we used it with a much shorter communication interval (i.e. the time interval at which it shares location information with the server) of 30 seconds. Charge time is about 2 to 3 hours. The MT60X comes with a charging base attached to a USB A cable of about 1 meter.