The UK Home Office still has questions to answer about the Aspen Card
We wrote to the UK Home Office to ask them to stop spying on asylum seekers via the Aspen Card, their response left us with more questions.
Key points
The Home Office and contractors collect and store information about Aspen Card usage.
The Home Office state asylum seekers are 'aware of and agree to' this and the terms and conditions.
We want to know more about how this 'consent' operates in reality.
The Home Office monitor and investigate usage for 'safeguarding' and 'breach of conditions'.
We want to know how they monitor usage of the Aspen Card and how they interrogate this data.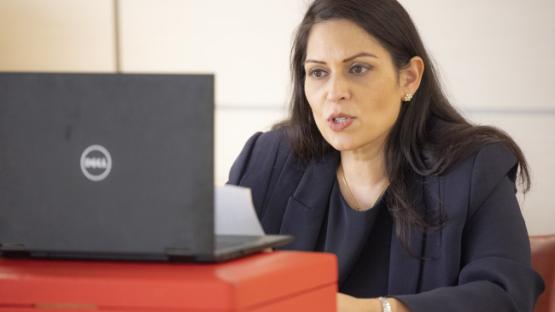 To fully understand when, how and why asylum seekers are monitored via the Aspen Card, we need more information.
In February this year we launched our 'Stop Spying on Asylum Seekers' campaign, demanding that the UK Home Office ceases surveillance of asylum seekers through the payments they make on their 'Aspen Card' debit payment card.
Over 200 people wrote to the Home Office. We are grateful for the pressure that every one of you have applied to the Home Office.
You can read our explainer about financial surveillance via the Aspen Card here.
If you wrote to the Home Office, you may have received the same reply we did (attached below). Whilst the Home Office responded broadly to the issues we raised, their response raises more questions. Here's why.
The Home Office said it does not routinely monitor the use of Aspen Cards. It will only investigate the usage when there is a safeguarding concern or when there has been a breach of conditions.
We want to know:
How are breaches or concerns flagged?
Is there manual or automated analyses of Aspen Card usage?
What are the reasons for an individual or automated system to alert a breach of conditions or safeguarding issue?
What constitutes a breach of conditions?
What constitutes a 'safeguarding concern'?
What is the current policy or guidance for Home Office staff and what does that say?
It is clear the Home Office monitor Aspen Card usage. We need to know how. It is vital transparency exists as to whether this is done manually or via an automated system that flags purchase patterns that might be in breach of conditions. If it is automated, saying monitoring is not routine does not make a lot of sense to us.
Our interviews with asylum seekers show the damaging impact of what appears to be a flawed alert system. The recent UK exam debacle provided a stark warning about the risks of algorithmic discrimination. And they are often affecting migrants, as in the case of the visa streaming algorithm, which was also recently scrapped.
The Home Office says supported asylum seekers are aware of and agree to the Home Office and authorised contractors collecting and storing information about card usage for the purposes of fraud prevention and ensuring compliance with the conditions of use of the Aspen card.
We want to know:
How are supported asylum seekers informed about the collection and storage of information?
Are terms and conditions clear and accessible?
Is there are second layer of monitoring done on the collected data in addition to the monitoring for breaches and safeguarding?
Have there been assessments of whether aslyum seekers can give informed consent or consideration of the power imbalance between the indivdiual and the state?
There is an inherent power imbalance between the individual and the state. When it comes to basis subsistence, we question whether asylum seekers have any other option but to agree. If you don't agree, you don't eat.
So we want to know the details behind the Home Office's belief that asylum seekers are aware of and agree to collection and storage of information. We want to know the legal basis for justifying processing of this data if consent is not meaningful.
We wrote in October 2019 about questions asked in Parliament regarding data protection impact assessments. These should look at the thorny issue of 'consent'. The Home Office said they would complete one. Where is it?
The Home Office say that the Aspen data is just one part of the overall picture and they would always gather additional information in arriving at a decision to discontinue support.
Given the testimonies we have gathered from asylum seekers, we question what additional information they use and whether they take the time to properly engage with an individual who could be left in precarious circumstances if support is removed.