Privacy International Sends Warning Briefing and Anti-Surveillance Phone Pouch to Brexit Negotiators to Help Them Stay Secure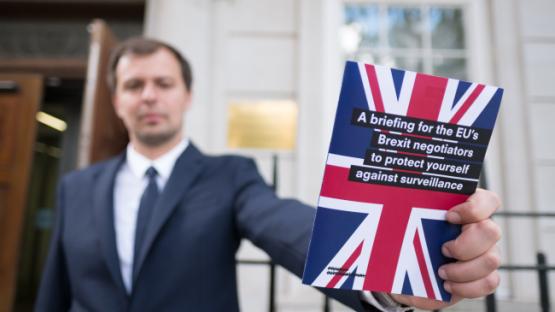 Please find attached a copy of the briefing along with promotional photographs with the briefing.
Privacy International has today sent top EU and UK Brexit negotiators* a briefing on their vulnerability to potential surveillance by each other, and others. Brexit negotiations are to begin today. 
The global privacy rights NGO has highlighted to the negotiators the risk of sophisticated surveillance capabilities being deployed against each other and by others, and provided negotiators a Faraday Cage which can be used to protect their mobile phones from being hacked, tracked, or targeted by other surveillance. 
The briefing is on one side addressed to EU negotiators and highlights surveillance powers available to UK government agencies, and a near identical briefing is addressed to UK negotiators to highlight surveillance powers available to government agencies in some EU member states on the other side. The briefing warns negotiators that foreign government agencies can:
Hack foreign institutions and people
Activate a device's microphone, webcam or GPS-locator technology
Intercept internet traffic travelling on undersea fibre optic cables at a mass scale 
Access raw intelligence collected by partner intelligence agencies 
Force service providers to decrypt communications
Privacy International is also sending a Faraday Cage specially designed by Agent Provocateur founder Joseph Corré, which can be used to block electromagnetic signals from reaching negotiators' mobile phones. However, considering the extensive surveillance powers available to UK and European governments and to other potential adversaries, the Faraday Cage ultimately offers little meaningful protection. Instead, Privacy International asks that the negotiators support stronger laws to protect privacy.
The package is being sent in the context of high-profile hacking of political figures during the recent US and French elections where adversaries have been able to access the private communications of senior political party figures. At the same time, ironically, the use of secure communications has come under increasing attack by leading politicians, including the UK's Home Secretary Amber Rudd; and is fundamentally undermined by the UK's new Investigatory Powers Act, which could force providers to build a "backdoor" to their encrypted services.
Edin Omanovic from Privacy International said:
"The outcome of the Brexit negotiations will have an enormous influence on people's lives for generations. But as we've seen in recent elections in the US and France, the vulnerability of our devices and communications to hacking and surveillance puts entire democratic processes at risk. Instead of protecting us from this threat however, countries in the EU and the UK have recently taken draconian steps to undermine our security by empowering themselves with intrusive surveillance powers and condemning things like encryption which plays a fundamental role in security in today's digital age. The rush for greater surveillance powers is a race to the bottom which ultimately leaves everyone less secure. 

As a result, both sides of the negotiations are now incredibly vulnerable to surveillance. We're sending them our specially designed Faraday Cage which we hope they'll use to provide some protection. However, because distributing Faraday Cages to every mobile phone user globally is impractical, we ask that negotiators also consider supporting stronger laws to protect privacy."
* The package is being sent to David Davis, the UK Secretary of State for Exiting the European Union; Boris Johnson, Secretary of State for Foreign and Commonwealth Affairs; Liam Fox, Secretary of State for International Trade; Michel Barnier, head of the European Commission's taskforce on the negotiations; Guy Verhofstadt, European Parliament chief negotiator; and Didier Seeuws, Council Special Taskforce Chief Negotiator.