Privacy International calls on HMRC to investigate Gamma International's potential breach of UK export laws
Press release
Post date
9th February 2013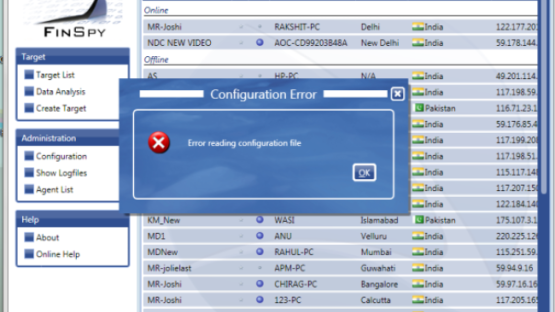 Privacy International has called upon HM Revenue & Customs to investigate potentially illegal exports by the British company Gamma International, which has been exporting surveillance products without a license to repressive regimes with dismal human rights records. 
On Friday 9th November, Privacy International's Eric King wrote to HMRC with a 186-page dossier of evidence against Gamma. HMRC is the body responsible for enforcing export regulations and policies set by the Department for Business, Innovation and Skills (BIS), and has the power to bring criminal proceedings against companies that disregard these rules.
BIS confirmed to Privacy International that products in Gamma's 'FinSpy' suite of hacking software do fall within the scope of the UK's export control regime in September 2012. They informed the company of this fact on 2nd August 2012. Despite the fact that FinSpy has been on the market for six years, and that companies are legally obliged to request export licence classifications, Gamma had only submitted a Control List Classification enquiry (CLC) asking the government whether or not they needed export licences for the product in July 2012. 
Gamma is now required by law to apply for country-specific licences in order to sell to customers outside the EU. However, in the same letter BIS stated that they have received no applications from Gamma for any such export licences. Yet the company is known to have exported FinSpy and similar products to countries with dismal human rights such as Bahrain and Turkmenistan, where this sophisticated software may be used to target dissidents for harassment, arrest and even torture.
Privacy International's letter alerts HMRC to this potentially criminal breach of the export control regime, and calls for an urgent investigation into Gamma International's export practices. The accompanying dossier of evidence compiled by PI demonstrates the scale and scope of Gamma International's trade with oppressive governments overseas.
Eric King, Privacy International's Head of Research, said:
We welcomed BIS's acknowledgement that exports of Gamma International's FinSpy should be controlled. It is an extremely dangerous tool that until now they have been selling to repressive regimes with impunity. Now it is up to HM Revenue & Customs to demonstrate that it can quickly and effectively lay down the law. Every day that exports of FinSpy go unchecked further jeopardises the work and lives of human rights defenders and pro-democracy activists."
Privacy International requested a response from HMRC indicating that an investigation into Gamma International is already underway or would be initiated within 14 days. However, we have not yet received any such response.