Bug Off! A Primer for Human Rights Groups on Wiretapping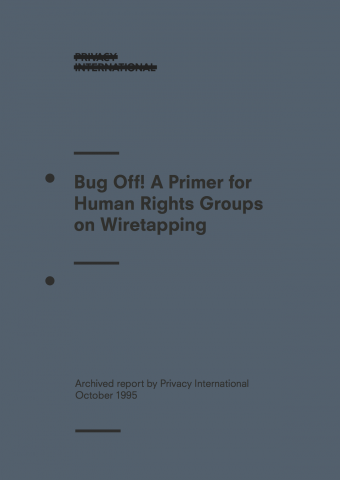 Thursday, October 5, 1995
The explosion of telecommunications services has improved the ability for human rights groups to disseminate information worldwide. New telephone, facsimile and computer communications have created opportunities for human rights groups to improve organizing and to promote human rights faster and at a lower cost than ever before. However, these new technologies can be monitored by governments and other groups seeking to monitor the activities of human rights advocates. For this reason, human rights advocates should be aware of the dangers and measures that can be taken to limit surveillance.
The scope of this paper is limited to the interception of oral and electronic communications commonly referred to as wiretapping and other issues related to telephone communications. It will also discuss methods to avoid surveillance. 
We are a small and fiercely independent charity that picks big fights with companies and governments that attack your privacy, dignity, and freedom. Our independence means we never accept funds from industry and governments that limit our ability to criticise those same institutions who abuse your privacy, dignity, and freedom.
To help keep PI independent we need your support.