We've come a long, long way together: building coalitions around the right to privacy
News & Analysis
Post date
29th October 2015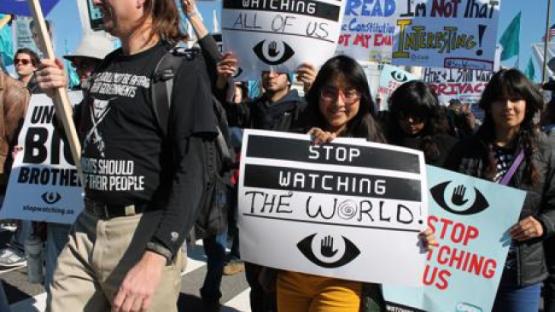 Photo: Flickr/Elvert Barnes. Some rights reserved.
In the wider civil society space, the opportunities for travel come thick and fast. From the multi-stakeholder perspective, the Internet Governance Forum will be held during November in João Pessoa, Brazil. There is the Stockholm Internet Forum in, naturally, Stockholm. In freedom of expression there is the International Freedom of Expression Exchange Strategy Conference in Trinidad & Tobago, while End Violence Against Women International's conference will be held in Washington in March 2016. What doesn't happen often is an opportunity for these weary travellers to meet in one place and discuss their backgrounds, their similarities, their differences. This is what excites me about the upcoming World Forum for Democracy, which will be organised by the Council of Europe in Strasbourg on 18-20 November 2015. It will be an occasion to meet new people, to bring more minds to think about how surveillance affects their work as well as them as individuals within our and their society, and to discover what the right to privacy means to them. 
Building coalitions working on surveillance has reached a new stage. We now have a strong international network of organisations from diverse countries already representing an impressive array of stakeholders across disciplines. That took time and effort to build. The next phase is to push even further the diversity in background and discipline of organisations engaged in these debates as we advocate for the protection of the right to privacy as a fundamental human right.
NSA/GCHQ who?
While the focus of privacy and surveillance in the media has been on the deeply important Edward Snowden revelations, building a global network has provided an opportunity to move away from the simplified nexus of NSA and GCHQ. Casting an eye around the world we see organisations making gains in elevating their national discourse around privacy and pushing governments to make changes. In Pakistan, a successful challenge against the dangerously bad Prevention of Electronic Crime Bill because of its lack of inclusion of civil society in the debate led to the postponement of the bill and a consultation with the previously frozen out groups. Alongside this, exposing Pakistan's Inter-Security Intelligence agency's proposal for a mass surveillance system helped to drive national debate on what is a proportionate interference with the right to privacy, which involved local groups such as the Digital Rights Foundation, Bytes 4 All and Bolo Bhi.
In Colombia, the release of two investigative reports into the shadowy world of intelligence agencies has provided organisations in the country with the opportunity to question their own representatives about their knowledge of surveillance capabilities. A meeting of the intelligence commission, the committee that oversees the work of Colombian intelligence agencies, in early October was too coincidental to not have been influenced by the work of organisations like the Karisma Foundation in beginning discussions with lawmakers directly and delivering the reports to the relevant stakeholders.
Only five years ago, these stories of civil society stirring debates on privacy and national security wouldn't have been possible. 
It has taken years for this global network to form. Privacy International began the conversation through work in Asia in mid-2008. This is often referred to as the first time that the right to privacy had been discussed with organisations in the region, such as the Centre for Internet and Society in India, or the Foundation for Media Alternatives in the Philippines. Those first conversations have come a long way, as shown by the development of initiatives like the International Principles on the Application of Human Rights to Communications Surveillance, which has been signed by 420 organisations from around the world, as well as the expansion of Privacy International across continents from Latin America to Africa and Asia.
Discovering new allies
Establishing this global network required the identification of an ideal type of partnering organisation. It was to be either engaged in research or activism, with a focus on policy relating to modern forms of communication like the internet. An interest in law, the state, and the effect of the private sector helped too. Now, this ideal type is being rewritten, expanded with new characteristics. 
Coalition development is in a new phase. Groups outside of the field of internet governance and 'digital rights' are now becoming involved in the debate about privacy and surveillance. In Britain, the role of organisations focused on victim support and child protection are starting to taking an active role in the discussions about the forthcoming Investigatory Powers Bill, which will spell out the powers of the security services to conduct surveillance and associated safeguards. Other civil society actors will be represented in the coalition Don't Spy On Us, which includes organisations such as Privacy International, Open Rights Group, Liberty, Big Brother Watch, Article 19 and English PEN, and which has helped to expand the base of participants in the discussions. 
Journalist groups have been growing in their presence also. Press Gazette's Save Our Sources campaign focused on the protection of the anonymity of sources after the unlawful use of the Regulation of Investigatory Powers Act to identify the source of a story from The Sun. The National Union of Journalists has also been running a campaign on these issues for over a year.
The global network has continued to expand its address book too. In Chile, Derechos Digitales has been reaching out to indigenous communities threatened with displacement from their land to discuss the effect surveillance has had on their work. Meanwhile, in South Africa, the Right 2 Know Campaign published a series of case studies on the harassment of various activists, community leaders, think tanks and local unions by intelligence agencies.
These past few years have shown groups from different professional backgrounds and operating at different scales, either nationally or internationally, have become more engaged in the topic of surveillance. This is both a natural and a necessary development. As our lives are increasingly dependent upon the use of technology to communicate, and the devices we carry broadcast information about us even when we are not using them, the discussion on privacy and surveillance needs to reach all areas of society.
The idea to be presented at the World Forum for Democracy is built on the back of this international movement. Currently, national jurisdictions around the world make a distinction between the communications of a national and those of a non-national, and afford them with different human rights protection. In our increasingly interconnected world, this distinction is a big hurdle to the realisation of a meaningful right to privacy, without discrimination. By introducing a right to privacy through interference based jurisdiction – where states owe a negative obligation not to interfere with a person's communication – our right to privacy will travel with the communications we send. 
The success of this idea requires a worldwide, international movement with diverse voices, who will work towards this change using the skills and experiences acquired in their own work, whether that is through strategic litigation, policy development or community organising. All skills and approaches have a role to play in realising the right to privacy across the world.
As I look at the programme for the World Forum for Democracy, and at the different Labs to be held, I see an opportunity to continue to expand this coalition, as well as to learn from other groups' experiences of building similar movements. Labs organised by interfaith, intercultural, or anti-hate groups bring together people that Privacy International would not normally cross paths with. Meeting new ideas and perspectives on how to achieve change – this is where creativity sparks.
The past few years have exposed Privacy International's area of work to different cultures, different contexts and different challenges. It has been for the better. The participation of PI, along with some of its partners, in the World Forum for Democracy appears set to carry on this trend.