New investigation reveals Colombia's spy equipment suppliers
News & Analysis
Post date
2nd September 2015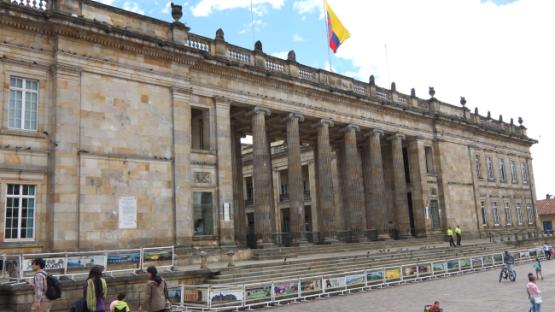 Over a dozen international companies are supplying powerful communications surveillance technology in Colombia, according to a Privacy International investigation released today featuring original documentation. Over the past few decades, companies primarily from Israel, the US, and the UK have worked with Colombian partners to expand the Government's surveillance capacities. This is despite evidence that the Government is undertaking unlawful surveillance of Colombians.
The Colombian state is a ready customer for this technology, fuelled by its increasing desire to capture vast amounts of citizens' private communications data as part of its fight against various armed insurgencies.
While the Army has used drones and other technologies to track rebel groups' movements and communications, it has also used its technical resources to spy on peace negotiations and influence electoral processes. Law enforcement and intelligence agencies, ranging from the now-disbanded Administrative Department of Security (DAS) to the Police Intelligence Directorate (DIPOL), have overstepped their lawful authority by targeting their surveillance at journalists, activists and even government officials. The most notorious of the interception scandals saw special strategic intelligence groups of the DAS spy on an estimated 600 public figures including parliamentarians, journalists, human rights activists, lawyers, and judges, among others. Targets have been spied upon and harassed in horrifying ways, and it continues to this day.
Privacy International's companion report released this week, "Shadow State: surveillance, law and order in Colombia", details how a mass surveillance system has been constructed in the absence of any clear lawful authority, safeguards against abuse or any public scrutiny. Indeed, the Colombian public is largely unaware that the Government has given themselves such wide ranging powers.
Surveillanomics
The global commercial surveillance industry is relatively new. Historically, the private sector played a limited role in providing the surveillance capabilities used by state law enforcement and intelligence agencies. States by and large preserved a monopoly on the development and deployment of surveillance technologies as surveillance was a time-, resource- and finance-intensive activity.
The picture has shifted significantly in the past few decades. A commercial industry has emerged to service states' desire for ever-more expansive surveillance capabilities. It sells technologies that have put the collection and retention of vast amounts of data within the budgetary reach of more and more governments, like Colombia's. The global surveillance industry was estimated by one insider to be worth around US$ 5 billion in 2011 and is growing by 20 per cent annually. Companies attract new customers by portraying themselves as part of a legitimate and responsible industry whose primary purpose is to tackle the threat of increasing criminality facilitated by modern communications infrastructures. And in Colombia – with its well funded military, and weak oversight regimes – the industry finds ready customers.
Spoiled for choice
Our investigation revealed over a dozen international companies working with Colombian resellers and partners. These include smaller targeted products like a credit card recording device by Swiss company Nagra; 'Pointer', a hand-held device that can be used to determine the direction in which a person using a communications device is travelling while intercepting phone calls with an IMSI catcher by UK company Smith Myers Communications; and a video and audio recording device modelled on a baby seat by UK company LMW Electronics.
But more troubling are the sales of network communications surveillance devices – network taps, probes and the monitoring centres to which they connect.
STAR Colombia Inteligencia & Tecnología, a Colombian firm, build the 'Esperanza' nationwide fixed-line and mobile interception platform. Esperanza was the nation's most visible communications interception system, managed and administered by the Office of the Attorney General (Fiscalía General de la Nación, 'Fiscalía') and heavily supported by the US Drug Enforcement Agency (DEA). Esperanza can obtain mobile and fixed-line call data.
NICE Systems, in partnership with Colombian partner Eagle Commercial, won a number of later contracts to massively expand the PUMA system's interception capacity.
A surveillance system managed by another branch of the Police, the Police intelligence directorate (DIPOL), also has mass surveillance capacities. The Integrated Recording System DIPOL managed collected and stored communications data using technologies from the Israeli company Verint Systems Ltd.  Both of Verint's projects were maintained by local partner, Compañía Comercial Curacao de Colombia.
The companies that sell surveillance technologies often enable and facilitate state surveillance that violate human rights standards, yet the legal and ethical implications of the technologies they sell have never been sufficiently scrutinised.
Privacy International wrote to the companies featured in its investigation and asked them about their corporate social responsibility practices. We received only five clarifying responses from the 16 companies we contacted. Of these, none addressed our question about what corporate social responsibilities policies the company employed in relation to their surveillance technology business.
There has been some limited progress addressing surveillance abuses of recent years. The Office of the Attorney General is investigating the DAS abuses and in 2014 called for a halt to the expansion of PUMA, one of the country's mass network interception systems, for fear it may lead to indiscriminate interception. Yet PUMA is back on track and the expanded version is expected to be operational soon.
The illegal interception of communications and the abuses of privacy rights will continue so long as the technologies that the surveillance industry sells and the ways in which they are used stay in the shadows. In light of past abuses of surveillance system, the declassification of documents concerning surveillance technology contracts would be a first step towards increasing transparency and sorely-needed effective oversight of the country's intelligence and law enforcement agencies.
The report also underlines the need for foreign governments to take action to ensure that they are not complicit in enabling unlawful surveillance. It calls for states to to ensure that the provision of foreign assistance is conditioned on strong human rights conditions, and to carry out a full, transparent review of what assistance has been provided to Colombia which has ultimately been used for surveillance programmes. The report further highlights the need for states to ensure that surveillance technologies are not exported if there is a risk they will be used to facilitate internal repression or to otherwise undermine human rights, or if there is no clear legal framework governing the exported items' use.