The Global Surveillance Industry
Explainer
Post date
16th February 2018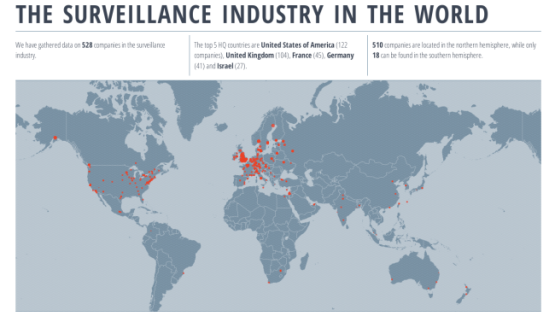 What is the Global Surveillance Industry?
Today, a global industry consisting of hundreds of companies develops and sells surveillance technology to government agencies around the world. Together, these companies sell a wide range of systems used to identify, track, and monitor individuals and their communications for spying and policing purposes. The advanced powers available to the best equipped spy agencies in the world are being traded around the world. It is a lucrative business, but is so secretive and murky that no-one really knows its overall value.
In 1995, Privacy International published Big Brother Incorporated, the first ever study of the increasing role of the arms industry in the international trade in surveillance technology and their role in exporting sophisticated surveillance capabilities from developed countries to non-democratic regimes. Since then, we have continued to monitor the industry, and have compiled our data within the Surveillance Industry Index (SII), the world's largest publicly accessible database on the commercial surveillance sector, featuring as of May 2016 data on 528 companies. Our report, The Global Surveillance Industry, provides a comprehensive analysis of the industry, including its history, products, and customers.
Who's involved?
The modern electronic communications surveillance industry evolved from the commercialisation of the internet and digital telecommunications networks during the nineties, when governments began passing new laws demanding new electronic surveillance powers and technical protocols to guarantee government access to networks. In response, a global industry developed consisting of arms contractors, telecommunications companies, IT businesses, and specialised surveillance companies, overwhelmingly based in large arms- exporting countries with advanced economies.
A nationwide surveillance architecture is comprised of various types of companies:
Internet Service Providers (ISPs) and telecommunications operators, which manage networks and charge subscribers for certain services, such as internet, mobile and fixed-line telephony services, and may be required to ensure that their networks are accessible to government agencies.
Telecommunications equipment vendors are companies which develop the necessary hardware, such as switches and routers, upon which networks run. Because they are developed with Lawful Interception capabilities, when they are exported some equipment by default actively carries out surveillance, or is designed in a way to be easily accessible for surveillance purposes. Some vendors specially develop and market equipment for surveillance purposes.
Surveillance companies sell technologies for law enforcement and intelligence purposes. These can be systems which facilitate the Lawful Interception process, sold for example to operators for compliance purposes, or sold directly to government agencies providing more widescale, untargeted, and intrusive capabilities.