Buddi Limited - Immigration Enforcement's favourite tracking buddy
The privatisation of migration control and policing takes different shapes and forms.
The latest iteration comes in disguise – specifically, in four pastel colours: if you were to look at this company's main website, in fact, you'd only find wristbands and tools to monitor the well-being of elderly people who live alone. But as stated in their annual report, the majority of British company Buddi's revenue originates from the criminal justice market.
Long Read
Post date
30th November 2022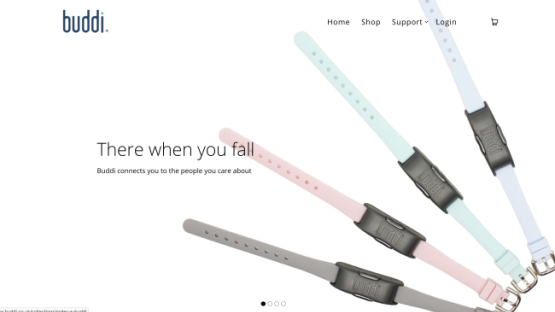 Since early 2021, PI have been investigating and challenging the latest stride in the UK's cruel migration policies: the roll-out of GPS ankle tags to monitor migrants released on immigration bail, a dehumanising, invasive method of control that monitors and records people's precise location 24/7.
More recently, we found out through Freedom of Information Requests that the Home Office is working to roll out "smartwatches" - devices that also record 24/7 location data, but instead of being attached to ankles will require people to submit to biometric scanning when randomly requested, up to 5 times a day (either through facial recognition or scanning of their fingerprints).
The introduction of smartwatches was presaged in a Home Office data protection impact assessment (DPIA) from August 2021 (obtained through a freedom of information request) assessing the data protection impact of the Home Office's GPS tagging of migrants. The scheme is described as involving "daily monitoring of individuals subject to immigration control", with the requirement to wear either a fitted ankle tag or a smartwatch at all times.
By trawling through public contracts, PI found out that the smartwatches would be supplied by the British tech company Buddi Limited, under a contract published on 10 May 2022 awarded by the Ministry of Justice for delivery of "non-fitted devices" to monitor "specific cohorts" as part of the Home Office Satellite Tracking Service. We shared this with The Guardian, who then revealed the partnership. Non-fitted devices (i.e. smartwatches) are hailed in the contract as a "more proportionate" way of monitoring people over extended periods of time than fitted tags. The scheme, due to be introduced in autumn 2022, would come at an initial cost of £6m.
The DPIA provides that photographs taken using the smartwatches would be cross-checked against biometric facial images and that if the image verification fails, a check would have to be performed manually. It also provided that the data could be shared with the Home Office, MoJ and the police.
When we looked at Buddi's website for the first time, we were puzzled at the idea that these migrant tracking devices were to be provided by a company marketing itself as selling personal alarm wristbands for the elderly.
Further digging revealed that the company's most profitable revenue stream is actually the criminal justice system in the UK and abroad.
Who's Buddi?
Buddi was founded in 2005 by British entrepreneur Sara Murray OBE. The About Us page on its website states that while the company began by developing a solution to locate vulnerable individuals, today their focus is on "providing peace of mind by enabling people to live independently in their own homes for longer". "Buddi provides technologies to support individuals across more than 80% of UK local authorities, as well as to Government customers around the world," it continues.
Buddi's wristbands come in multiple colours – mint green, rose pink, sky blue and charcoal grey – and allow people to check on their elderly relatives 24/7 and know if they had a fall or they're in need of any help.
More accurately, though, Buddi sells electronic monitoring solutions in the criminal justice and healthcare sectors.
The bulk of Buddi's profits comes indeed from selling technology to government agencies – but mostly those in charge of detention.
According to their 2021 accounts filed at Companies House, revenues in 2021 amounted to £29,340,000, with profits at over £9M.
In the 2021 annual report of Big Technologies PLC group - Buddi's parent company - the vast majority of their revenue shows as originating from the global criminal justice market: "The majority of revenues continue to be derived from customers in the criminal justice sector, which accounts for more than 98% of reported revenue (2020: 97%)."
According to the same report, they entered the criminal justice market in 2010, following a pilot with a UK police force, which had been using the Buddi products to "safely support victims of domestic violence, victim protection and witness protection".
Buddi's relation with the UK government has not been without controversy, with the company being given preferred-bidder status in 2014 to provide the hardware for the Ministry of Justice £1bn GPS tagging scheme, only for the procurement process to start again a few months later. At the time, then Justice Secretary Chris Grayling claimed that Buddi had "failed to show it could supply the technology to keep track of 20,000 offenders at one time within the required timetable." According to the Guardian, "Buddi's share of the £1bn contract was thought to be worth £300m. The other companies involved in the project are Capita, Astrium and O2's owners, Telefónica."
Buddi founder Sara Murray reportedly said that the hi-tech tag that justice ministry officials wanted was a "figment of their imagination" - also according to the Guardian. Four years later, in 2018, the Commons public accounts committee (PAC) report disclosed that the system would rely on the same technology that was available when the programme was launched in 2011, and would cost more than £60m over its £130m original budget.
A shift towards "rehabilitative sentencing"?
Wearables are the latest frontier in the digitalisation and surveillance of our lives. When combined with biometric technology and used by powerful institutions to criminalise vulnerable people, it's not hard to predict they may, in turn, lead to further human rights abuses.
In their public statements, Buddi seem committed to have their products used to improve the criminal justice system: "our products facilitate a shift towards rehabilitative community-based sentencing which reduces recidivism and keeps communities safer. In the care sector our technology helps people live happier, healthier and more independent lives," writes Simon Collins, a Non-Executive Chair at Buddi in the Big Technologies Plc 2021 annual report.
He goes on to note that "[n]ot all governments and their criminal justice systems respect human rights. We work hard to ensure that our products and services are available only to customers that operate with appropriate legal and ethical systems".
But the deployment of GPS tags and smartwatches in the UK for monitoring of migrants has alarmed a number of migrant rights organisations, sparking complaints by PI and a number of claims filed by tagged individuals against the Home Office for violations of their fundamental rights.
The Home Office is now even rolling out GPS tags to people who arrive to the UK by "unnecessary and dangerous routes", under an expansion pilot published in June 2022. This is a considerable widening of the cohort of individuals who will be made to wear these tags, much beyond the original target group of "very high harm offenders".
The Guardian investigation on smartwatches points out that migrants released from immigration detention who will be obliged to wear the devices "will need to complete periodic monitoring checks throughout the day by taking a photograph of themselves on a smartwatch, with information including their names, date of birth, nationality and photographs stored for up to six years. Locations will be tracked "24/7, allowing trail monitoring data to be recorded". This might be what Buddi refer to in their 2021 annual accounts as "exciting new products in development for criminal justice customers, which will be trialled with customers during 2022" [emphasis added].
None of the policies and impact assessments we've seen indicate that the Home Office assessed whether it would be appropriate to electronically monitor vulnerable or at-risk asylum seekers, while research by migrant rights organisations shows some individuals experience GPS tagging as a form of "psychological torture".
In October 2022, another Guardian investigation showed that Buddi was involved - via a £470,000 contract awarded by the Ministry of Justice – in a GPS tagging scheme that was used to racially target and sentence young black men for knife crime offences.
The criminal justice market is a global one, and one Buddi seems keen to explore further: "There are a range of estimates as to the size of the total addressable market but we conservatively estimate that the size of the worldwide criminal justice market is in excess of $3bn. The electronic monitoring market is expected to grow considerably in the near future providing further opportunities for the Group to explore," they write in their annual report.
Are asylum seekers the next business opportunity?
*Buddi has been given the opportunity to consider and respond to this report.