TACD calls on Facebook to adopt same privacy standards for all consumers and give details on how to Congress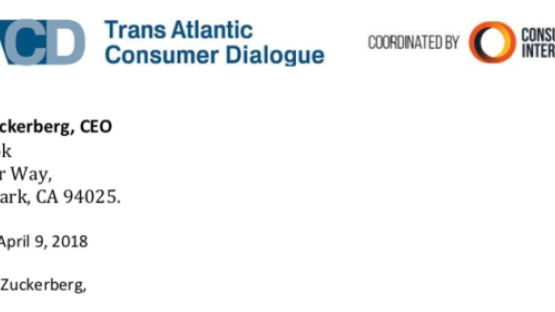 Today, the Transatlantic Consumer Dialogue (TACD) sent a letter to the CEO of Facebook, Mark Zuckerberg, urging Facebook to adopt the General Data Protection Regulation (GDPR) as a baseline standard, not just for EU consumers as it is required, but for all Facebook services.
The letter comes ahead of Facebook Chief Executive Officer, Mark Zuckerberg's, appearance before congressional committee over Cambridge Analytica's misuse of customer data to interfere in the U.S. presidential election.
In its letter, TACD urged Facebook to confirm its commitment to global compliance with the GDPR and provide specific details on how the company plans to implement these changes in its testimony before the US Congress this week.
Read the full letter to Mark Zuckerberg.