PI Sends Anti-Surveillance Kit to Gareth Southgate to Stop Rival Managers spying on England tactics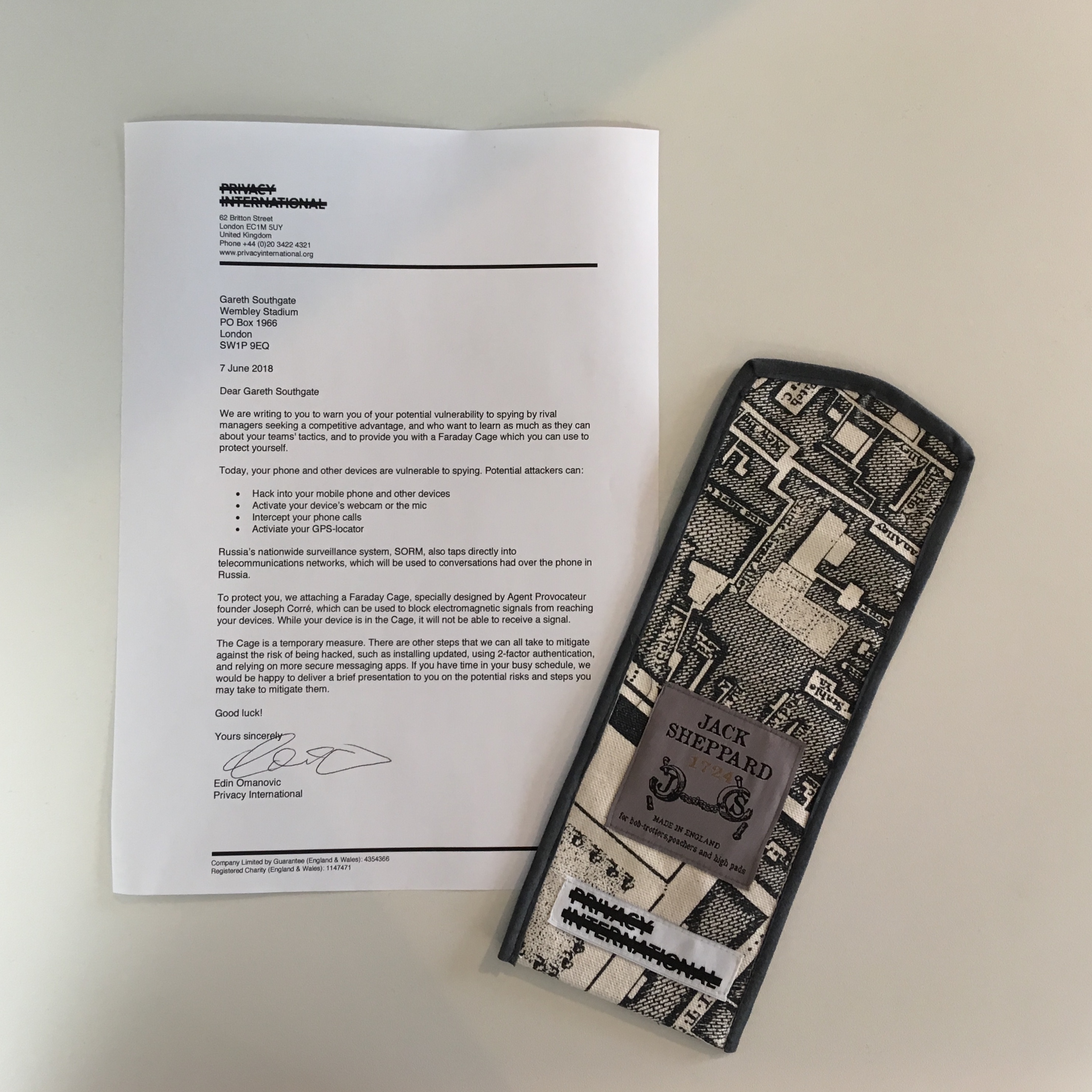 Thursday, June 7, 2018
Privacy International (PI) has today urged England Manager Gareth Southgate to bolster his defence ahead of the World Cup in Russia, which kicks off next Thursday. PI sent Southgate an anti-surveillance 'Faraday cage' phone pouch and a briefing on his vulnerability to potential spying by rival football managers and foreign governments intent on giving their team a competitive advantage. If rival governments routinely hack and intercept each other's communications, what's stopping rival teams' managers getting a hold of all of England's plans?
All managers will be seeking a competitive advantage, and would want to learn as much as they can about their rival teams' tactics. Who's going to play at right-back? Will Dier and Henderson play together? Who's been tasked with finally kicking Hart out of the lads' WhatsApp group? Even England's top football pundits don't know the answers to these questions, but with a bit of help from spying technology, any country that is looking for that competitive edge could hack us and learn everything they want.
The global privacy rights campaign group has highlighted to the English manager the risk of sophisticated surveillance capabilities being deployed against him and provided a Faraday cage which can be used to protect his devices from being hacked, tracked, or targeted. The briefing warns Gareth Southgate that foreign government agencies, including Russia's technologically sophisticated security forces, can:
Hack into his mobile phone and other devices

Activate his phone's webcam to watch him and all the England team, or to listen to team pep talks through the phone's mic

Intercept his phone calls - so if Southgate calls Jordan Henderson, the England Captain, to discuss tactical changes, they'll know the exact plan

Activate his GPS-locator technology, perfect for knowing if he ever samples Russia's vibrant bar scene 
Privacy International has previously reported on Russia's nationwide surveillance system, SORM, which taps directly into telecommunications networks which will be used by visitors to Russia, including the England team.
Privacy International is sending Southgate a Faraday cage specially designed by Agent Provocateur founder Joseph Corré, which can be used to block electromagnetic signals from reaching his devices. Privacy International warns Southgate that extensive surveillance powers are available to international governments and to other potential adversaries, some of whom may be passing on valued intelligence on England's team and preparation.
The package is being sent in the context of high-profile hacking of public figures, politicians, and companies, and at the same time as the use of secure communications has come under increasing attack by leading politicians across the world, including by the UK's Prime Minister Theresa May. The UK's new Investigatory Powers Act, for example, could force providers to build a "backdoor" to their encrypted services, further undermining the security of modern-internet enabled devices, which are already extremely vulnerable to hacking by criminals and government authorities.
Edin Omanovic, who leads Privacy International's State Surveillance programme, said:
"If England are to stand any chance of progressing in the World Cup, Southgate will need to take all the precautions he can, including against spying.

It's worth remembering that when governments hack, it's to gain a competitive edge against rival governments. Surely rival managers will all be wanting to gain a competitive advantage over each other in the biggest cup in the world. Let's face it, England's defence can sometimes be a little vulnerable, but when it comes to preventing rivals spying on the England team, it's only complacency that will stop him keeping a clean sheet.

While we think hacking should be stamped out from the game altogether, unfortunately it's something a lot of countries are getting away with. We don't want to see England playing dirty. So, we say the same thing to Gareth Southgate that we say to Theresa May - don't hack people, but make sure you defend against hacking. We'd love to see England winning the tournament, but if not at least we can win the Fair Play award.

We all like to think we have nothing to hide, until we realise just how much information about us is on our phones and being held by companies. You'd also like to think that because of this, the UK government would support having more security across devices and networks to protect us, but instead they're going the other direction and actually making us more vulnerable - it's a massive own goal."
We are a small and fiercely independent charity that picks big fights with companies and governments that attack your privacy, dignity, and freedom. Our independence means we never accept funds from industry and governments that limit our ability to criticise those same institutions who abuse your privacy, dignity, and freedom.
To help keep PI independent we need your support.