Press release: Privacy International calls for the Google/Fitbit merger to be blocked

As Google notifies the European Commission of its proposed acquisition of the health and fitness tracker Fitbit, Privacy International calls for the merger to be blocked because of concerns over Google's growing digital dominance.
Key points
On 15 June 2020 Google notified the European Commission of its intention to acquire Fitbit, the health and fitness tracker.
Privacy International is calling on the European Commission to block the acquisition.
Google already enjoys a significant online market dominance, much of it based on our personal data, and this move into acquiring a massive trove of heath data will expand its dominance with especially sensitive area.
Google does not have a clean record, including multiple fines from competition authorities in the past and a massive fine from the French data protection regulator for violating data protection law.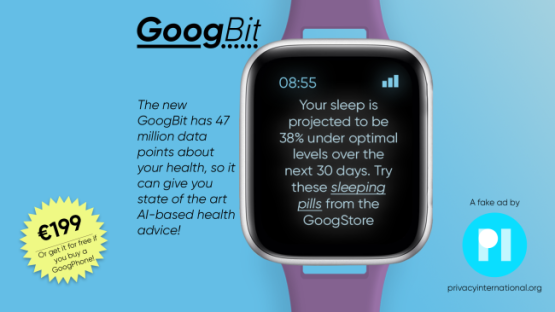 On 15 June 2020, Google formally notified the European Commission of its proposed acquisition of Fitbit, enabling them to capture a massive trove of sensitive health data that will expand and entrench its digital dominance. Privacy International is calling on EU regulators to block the merger.

In November 2019, Google announced its plan to acquire Fitbit, a company that produces and sells health tracking technologies and wearables - including smartwatches, health trackers and smart scales - around the world. On Monday, the proposed merger was notified to the European Commission, the body that is, among others, tasked with examining the implications of the merger for consumers and markets in the European Union.

We believe that a merger between Google and Fitbit will further contribute to Google's digital dominance, risking our freedoms for profit. This is why we are asking EU regulators to step in and block this merger.

Privacy International's key concerns:

1.    Google has become too big (and that's partly because of our data)
"Google has significant market power", stated a recent report by the UK Competition and Markets Authority, in relation to Google's position as a search engine. This is because a big part of Google's market power comes from personal data; the more data a company has, the better able it is to improve its services and thus become more effective.

While big isn't always a bad thing, abusing this dominance violates the law. The value of personal data increases as more and more data is combined with it, and this incentivises companies to pursue business strategies aimed at collecting as much data as possible. Our data is very important for Google, as among other things, it's used to train AI models like search engine results. And given the growing importance of data across all sectors of the economy, this concentration is expanding to other sectors, such as health.

2.    Google once again wants to get its hands on sensitive health data
A big part of Fitbit's value lies in the quality of the health data it possesses. If you are a Fitbit user, you are probably aware of the vast and sensitive amounts of personal data Fitbit products may collect about you; daily steps, distance walked or travelled, calories burned, sleep patterns and heart rate.

This is not the first time we have seen big tech jumping into the health sector. Google has a long track record of mergers and acquisitions, including health- and pharma-related companies. And just a few months ago, it was reported that Google has been collecting a wide range of health data in the form of lab results, doctor diagnoses and hospitalization records as part of its so-called 'Project Nightingale'.

3.    It's not just competition that's on the line, it's our well-being and dignity
Whether a Fitbit user or not, we all need to stop and think what the implications of this merger will be. EU data protection laws classify health data as special category data. These data are accordingly afforded a very high level of protection, due to the intimate aspects they can reveal about our everyday habits/life and the potential consequences, such as discrimination, if such data is exploited.

Google does not have a clean record - whether the multiple fines from competition authorities in the past or the €50 million fine from the French data protection regulator for violating data protection law in 2018 (under appeal). If Google obtains access to this data, then this adds to a vicious cycle. More sensitive data for Google means more opportunities for unique and intrusive profiling, which means a lot more advertisers seeking to benefit from these profiles, and, hence, a lot more profit - not to mention further business opportunities and reach for Google.

This is not the future we want to see - the laws that are in place to prevent this must be enforced.

If the EU approves the deal, then it will be giving a green light to our most intimate data being used for the profit of a tech giant which, in 2018 only, generated more than $80 billion in revenue from delivering targeted advertisements to users.

Google is already too big and should be prevented from also accessing our health data.

4.    We need to stand against digital dominance
It's time for regulators to act and prohibit the merger. The EU Commission must seize this opportunity. This is one merger but illustrates a much wider problem and taking a stand against this is a step towards challenging digital dominance and protecting our rights.
With the invaluable support of Hausfeld & Co LLP, PI will be seeking to intervene before the European Commission, asking them to block the merger, preserve vital parameters of competition, and to uphold consumers well-being.

Ioannis Kouvakas, Legal Officer at Privacy International, said:
"Regardless of whether we are Fitbit users or not, we all need to stop and think about the wider implications of this merger. Can we trust a company with a shady competition and data protection past with our most intimate data? We must not let big tech once again sacrifice our wellbeing on the altar of corporate profit!"