Press Release: Texas Media Company Hired By Trump Is Behind Kenyan President's Viral 'Anonymous' Attack Campaign Against Rival, New Investigation Reveals
Press release
Post date
15th December 2017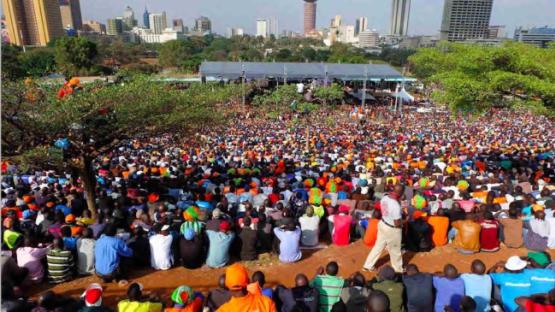 A new investigation published today by Privacy International reveals the role of an American data-based digital advertising company in the highly divisive online re-election campaign of Kenyan president Uhuru Kenyatta. 
In the run-up to Kenya's presidential election in August 2017, paid advertisements for two mysterious sites dominated Google searches for election-related terms and flooded Kenyans' social media feeds. All linked back to either 'The Real Raila', a virulent attack campaign alleging that a government headed by opposition leader Raila Odinga would 'remove whole tribes', or to 'Uhuru for Us', a softer site showcasing the President's accomplishments.
The two 'grassroots' campaigns were created by Harris Media LLC, an American far right digital media company, for President Kenyatta's campaign, as revealed by a new Privacy International investigation published today. Harris Media's previous clients include US President Trump's campaign, the anti-immigration and anti-Islam campaign Secure America Now, and the nationalist parties AfD in Germany and Front National in France.
Harris Media uses data analytics to target audiences using information gleaned from how people use their social media accounts. This raises serious concerns about the role and responsibility of companies working for political campaigns in Kenya, in which tribal affiliation and region of origin are particularly politically sensitive data, and volatile "coded language" was widely deployed. It also highlights the risks inherent in voter profiling and targeting in a country with no data protection law.
Dr. Gus Hosein, Executive Director of Privacy International said:
"Our new investigation points to a growing problem - the lack of transparency over how individuals are profiled and targeted for political campaign messages. Harris Media's campaigns for President Kenyatta relied on ad words in Google search and apparently targeted advertising on a range of social media platforms. How was targeting done for Harris Media's Kenyan campaigns, and using what kind of personal data? Did the factors used to target messages include tribal affiliation or other politically sensitive criteria, which would be a particularly irresponsible and divisive strategy? The fact that we cannot currently answer these questions – and that we do not know how these specific ads were targeted, raises serious concerns about accountability and transparency. It leaves unanswered important questions as to how such data will be stored, who will have access to it, and what it will be used for. We believe all companies who worked for presidential candidates in the Kenyan elections have a responsibility to disclose the nature of their business to the people of Kenya."