Micro-targeting in political campaigns: A comparative analysis of legal frameworks
A comparative research of legal frameworks governing political micro-targeting in Canada, Brazil, France, Italy, Spain and the UK.
Report
Post date
14th January 2021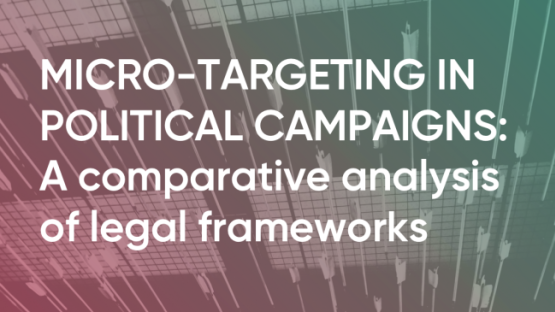 This paper examines the various legal frameworks governing micro-targeting in political campaigns in six states: Canada, Brazil, France, Italy, Spain and the UK. It aims to assess national practices as well as point out gaps in their respective frameworks. The paper commences by examining how micro-targeting is defined and thereafter examines the legal provisions applicable to micro-targeting activities.

To do this in an accessible way, the paper follows and analyses the series of activities that make up micro-targeting: collecting of personal data, using the data for profiling, and transmitting personalised communications to individual voters.

This report was compiled under the direction of Dr Paolo Cavaliere, Lecturer in Digital Media and IT Law, University of Edinburgh Law School, in collaboration with Privacy International.
Key findings:
Defining micro-targeting: There is no clear statutory definition of the practice in any of the six states. As a result, the legal frameworks governing political micro-targeting are most often piecemeal provisions relating to different aspects of data protection, privacy and electoral law, which in turn present a number of gaps and loopholes that campaigns can easily exploit.
Collection of personal data: Most commonly collection of data begins with information contained in publicly available electoral registers, the "spine" on which to add more granular information from other sources. Electoral registers are an important source of identifiers, namely the data that uniquely identify an individual, such as their name or address.
Using the data for profiling: While profiling is not explicitly prohibited in any of these countries, they show a significant degree of diversification with regard to the relevant guidance provided as well as the significance of the data subject's consent.
Micro-targeting: It is not prohibited in any of the examined countries nor is it subject to specific consent requirements. Instead, governments have opted for measures to improve transparency of political advertising at large. These provisions vary in both scope and efficacy but largely seek to enable voters to easily identify political advertisements as well as the identity of the senders.
Glossary
Ad targeting
Ads are "targeted" when they are aimed at an audience with specific traits based on the product or service that is being advertised.
Ads personalisation
Ads are "personalised" when they are targeted to a specific person based on their perceived or inferred interests or characteristics. These interests and characteristics are themselves derived from previous online activity, such as visited websites or apps used.