The EU Funds Surveillance Around the World: Here's What Must be Done About it
Long Read
Post date
18th September 2019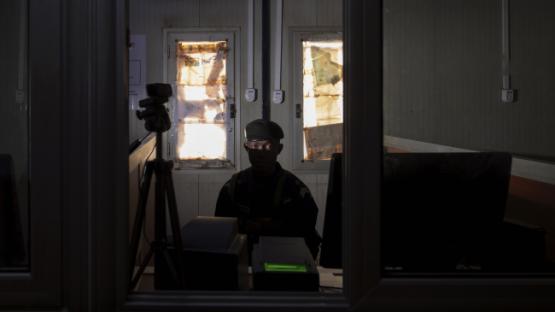 Photo: Francesco Bellina
Driven by the need to never again allow organised mass murder of the type inflicted during the Second World War, the European Union has brought its citizens unprecedented levels of peace underpinned by fundamental rights and freedoms. 
It plays an instrumental role in protecting people's privacy around the world; its data protection regulation sets the bar globally, while its courts have been at the forefront of challenges to unlawful government surveillance practices. 
But its various bodies have different, often conflicting areas of interest and policies. Too often, it has passed regulations at odds with its own fundamental values, such as forcing telecommunications providers to retain customers' data, and it spends millions of euros funding the development of advanced surveillance technology. 
As leaders have come to power across Europe on anti-immigration platforms, the EU's recent policies have been shaped by the drive to stop migration to Europe; a political strategy which has permeated throughout the EU's current and future agenda, particularly its relations with non-member countries.
By prioritising migration control, the EU's foreign aid budget and cooperation agreements are being used to encourage and enable other countries to carry out more surveillance and entrench the political control of local authorities. And is set to massively increase such support. 
Subject to agreement by the European Parliament and EU member states, the Multiannual Financial Framework (MFF) sets the EU's budget for seven-year periods. Last year, a draft was proposed by the European Commission which will manage expenditure of over a trillion euros between 2021-2027. The Commission hopes it will be signed off by the end of 2019.  
EU leaders have already made it clear that the its most urgent priorities include reducing migration, supported by the fact that the largest proposed increases on expenditure from the previous budget is on migration and border control, which will see funding nearly triple to €34.9 billion.
Such increases pose a severe threat to people's privacy around the world; not only do they divert resources away from development and other aid projects, they export surveillance capabilities around the world, often to countries which lack rule of law or are deeply authoritarian where authorities use them to stifle human and democratic rights. 
The EU's proposal is to incorporate many currently disparate funds related to development and foreign cooperation into one new one called theNeighbourhood, Development and International Cooperation Instrument (NDICI). Its future will be decided imminently: Privacy International has put together a summary of the proposals and recommendations for policy makers, available here. 
Another key fund is the EU Trust Fund for Africa. Currently, it is being used to fund various surveillance projects related to surveillance across to stop irregular migration to Europe. Similarly, it's future is also undecided: Privacy International has also put together a summary of the fund and recommendations for policy makers going forward. 
The future of these funds will have a profound impact on people's privacy and rights around the world for decades to come. Below, Privacy International maps some of the current instruments and funds which have been undertaken by the EU and which raise significant threats to privacy.
EU trust fund for stability and addressing root causes of irregular migration and displaced persons in Africa 
EU Trust Fund for Africa, which as of July 2019 amounts to 4.6 billion, works across three regional areas, the Sahel and Lake Chad, North Africa and the Horn of Africa on 209 different programmes aimed at deterring irregular migration to Europe. More than 4 billion of the fund is drawn from the European Development Fund (EDF), the EU's main sintrument for providing development aid, and other development and cooperation funds. Under the Fund:

European Neighbourhood Instrument (ENI)
The ENI provides over €15 billion from 2014-2020 to non-EU countries to its east and south aiming to foster human rights and the rule of law, reduce poverty, and support economic development, among other priorities. Under these funds:
Instrument contributing to Stability and Peace (IcSP) 
With a budget of €2.3 billion for 2014 – 2020, the IcSP funds projects aimed at conflict prevention, peace-building, crisis response and managing security threats. Projects include:
The Instrument for Pre-accession Assistance (IPA) 
The IPA is the means by which the EU funds countries which are potential future members and provides them with technical assistance, amounting to some €11.7 billion for the period 2014-2020. Under these funds:
European External Action Service (EEAS)
The EEAS is the EU's "diplomatic service", responsible for implementing the its Common Foreign and Security Policy, which includes promoting environmental protections, providing assistance in crisis zone, and promoting democracy worldwide. 
The EU is a key security player in the Sahel region, providing €147 million to establish the African led G5 Sahel Joint Force aiming to improve regional security and fight terrorist and criminal groups. It is also involved in a number of missions:
Development Cooperation Instrument (DCI)
The DCI, with a budget of €19.6 billion for 2014-2020, is aimed primarily at reducing poverty, supporting geographic and thematic projects worldwide. Under the Fund:
FRONTEX
The European Border and Coast Guard Agency, known as FRONTEX, is responsible for border control of the EU Schengen area. In 2016, its mandate and role was significantly increased and is now involved in joint operation in non-EU countries, and has concluded working arrangements with the authorities of 18 countries.