UK High Court orders groundbreaking redress for thousands of migrants affected by unlawful phone seizures and data extraction
In a case that found seizing and extracting data from migrants' mobile phones breached their fundamental right to privacy, UK courts breathe some life into the human rights principle of access to remedy.
Achieved Result
Providing justice to thousands of people affected by the UK government's unlawful policy of seizing and extracting data from mobile phones.
News & Analysis
Post date
18th November 2022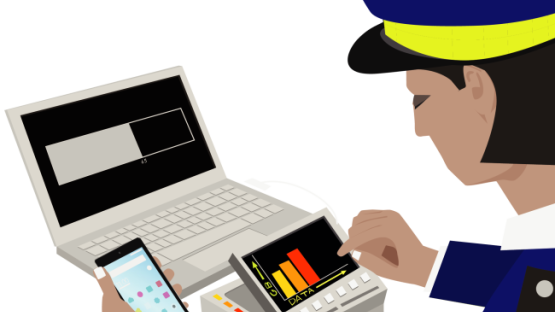 In a judgment of 14 October 2022, the UK High Court ordered the UK Home Office to provide remedy to the thousands of migrants affected by its unlawful policy and practice of seizing mobile phones from people arriving by small boats to UK shores.
The availability and spread of new technologies, and the exponential amounts of data they generate, are regularly being abused by governments to surveil and control people - but these new forms of surveillance are only starting to make their way through the courts, often leaving judicial authorities faced with the difficult task of identifying and quantifying the harm resulting from these intangible intrusions. Remedies for affected people are therefore all too often an overlooked and undervalued aspect of judicial redress. This judgment provides a groundbreaking example of efforts to provide concrete justice to all people affected by governments' abuses of their rights to privacy and data protection.
The latest judgment is the conclusion of a landmark case brought in the UK courts by asylum seekers against mobile phone seizures and data extraction, in which PI made a third party intervention. The substantive judgment was handed down on 25 March 2022, in which the High Court found that the secret and blanket policy of the UK Home Office to seize and search migrants' phones breached Article 8 of the European Convention on Human Rights (the right to privacy) and UK data protection laws.
The judgment handed down on 14 October 2022 dealt with two crucial issues:
(1) the Home Office's duty of candour in the conduct of the litigation (the duty to act with integrity, honesty, objectivity and impartiality), and
(2) the redress to be provided to the hundreds of people affected by the unlawful policy.
Duty of candour
The duty of candour is a fundamental principle in judicial review proceedings in the UK. It provides that "A public authority's objective must not be to win the litigation at all costs but to assist the court in reaching the correct result and thereby to improve standards in public administration". This requires a public authority to handle litigation with "integrity, honesty, objectivity and impartiality".
In the present case, when lawyers representing the Home Office responded to initial "pre-action letters", they denied that there had been a blanket policy of seizure of mobile phones which they thought might be unlawful. It emerged through incremental disclosure in the proceedings that they in fact knew at that stage that the the blanket policy had existed and that it might be unlawful, however they wrongly believed it had been abrogated in June 2020. When this emerged in June 2021, the Home Office issued an unreserved apology to the Court.
According to the Court, full early disclosure of the facts would likely have led to the truth being uncovered before it was. The existence of a secret, blanket policy was of course highly significant for the individual claimants in the case, but also for revealing that hundreds of phones had been systematically seized, and many never returned. The scale of illegality was such that the Home Office should have realised the need to be honest and transparent when prompted to reveal its policies. Judges found this overall amounted to "a collective error of judgment", which constituted a breach of the Home Office's duty of candour.
Right to an effective remedy
Article 13 of the European Convention on Human Rights requires that "Everyone whose rights and freedoms as set forth in [the] Convention are violated shall have an effective remedy before a national authority notwithstanding that the violation has been committed by persons acting in an official capacity." Under the Basic Principles and Guidelines on the Right to a Remedy and Reparation for Victims of Gross Violations of International Human Rights Law and Serious Violations of International Humanitarian Law as adopted by the UN General Assembly:
"States shall [...] [make] available adequate, effective, prompt and appropriate remedies, including reparation. [...] Remedies for gross violations of international human rights law and serious violations of international humanitarian law include the victim's right to the following as provided for under international law: (a) Equal and effective access to justice; (b) Adequate, effective and prompt reparation for harm suffered; (c) Access to relevant information concerning violations and reparation mechanisms."
The ruling in the phone seizures case is significant in that it provides a groundbreaking approach to providing remedy for human rights abuses perpetrated by governments. Access to remedy has long been a relatively ignored or secondary aspect of human rights law, with judgments often focusing on findings of violation but devoting little attention to providing concrete relief to affected people. This is a particular concern when a judicial review claim is brought by a small number of individual claimants against a government practice that has affected a much larger number of individuals.
Widespread illegality
In this case, the claim was brought by 3 individuals whose phones were seized by the UK Home Office upon their arrival to UK shores by small boats. Remedies were provided to the claimants after the Court found that the policy was unlawful and in breach of their fundamental right to privacy, and of data protection laws. However a residual issue considered in the final judgment was that of remedies to be provided to the likely thousands of other individuals whose phones were also seized, but were not party to the case.
Lawyers for the Claimants requested that the judgment be notified to those who may be affected by it - "that is to say, those who may have suffered illegality at the hands of the [Home Office]". The Home Office had, after the 25 March 2022 judgment, sent letters informing individuals whose phones were seized of the data breach identified under the Data Protection Act 2018, recognising that the policy to seize and extract data was unlawful. The Court found the letters to be insufficient, in particular because "the unlawfulness identified by this court is both serious and stems from what can only be described as systemic failings on the part of the defendant."
In addition, it appeared that at least 439 phones had not been returned to their owners because they were said to be "unattributable" to any individual - and that the Home Office had therefore not sent data breach letters to these people. Judges declared that:
"[r]egardless of her present inability to link a phone to an individual, the defendant should have some idea of where these individuals went [...]. If informed about the judgment, such an individual may be able to establish a claim to one of the retained phones, or at least advance a case that they had a phone that was seized by the defendant."
Remedies for the thousands of people affected by government abuses
The Court therefore ordered that the Home Office use "all reasonable endeavours" to inform each person whom they believe was subject to an unlawful search and/or seizure of a mobile phone of the existence of the judgment, and of their right to a remedy.
The Home Office was therefore compelled to write to the thousands of individuals who arrived by small boat and whose phones may have been seized from them, to give them the opportunity to make a claim for remedies. It was also required to publish the order on the UK government's website for at least 12 months.
While the substance of remedies was not publicly settled in this case, we can expect it to require the award of financial damages for the private law tort of unlawful searches, return of seized mobile phones (where possible) and deletion of any unlawfully extracted data.
Why this sets an important precedent
This case is an important reminder of the frequent cases concerned with high numbers of individuals affected by unlawful government policies, and of States' obligation to endeavour to provide them all with access to remedy - even when these individuals are difficult to track down. In addition, while the harm resulting from breaches of Article 8 and data protection laws is often difficult to concretely identify and quantify, new avenues for concrete remedy are being crafted and established as precedent.
We hope courts around the world can take inspiration from it.
For a full run-down of the case, see our case page.