Huawei infiltration in Uganda
Unwanted Witness, our partner organisation based in Uganda, explore critical questions around Huawei's surveillance dealings with the Ugandan government raise. While Huawei's relationship with the government raises concerns for human rights, many of these concerns remain unaddressed.
Key findings
The Uganda government has a contract with Huawei to supply and install surveillance equipment in cities throughout Uganda
Details about the contract remain secret - and it's not clear whether the procurement was legal or how much Huawei will get out of the project
There could be significant human rights implications to the project, Huawei technicians have, reportedly, already helped security personal spy on political opponents
Police plan on integrating these systems with other key agencies, including the revenue office, identification authority, and immigration office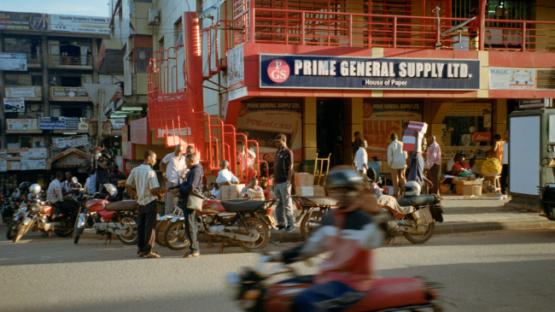 The Ugandan government has a running contract with the Chinese tech giant, Huawei, to supply and install CCTV cameras along major highways within the capital, Kampala, and other cities.
While details of the contract remain concealed from the public, the Uganda Police Force (UPF) released a statement, simply confirming its existing business partnership for telecommunication and surveillance hardware, and software between the security force and Huawei. However, it is not clear whether the selection of Huawei followed legal procurement procedures. Nor is it clear how much Huawei gets out of the partnership – or how much data they will retain.
The installation of CCTV cameras in Kampala started in July 2019 after President Yoweri Museveni directed a kick off of the project following the murder of the Assistant Inspector General of Police, Felix Kaweesi in 2017.
Unfortunately, the procurement and use of the cameras is shielded from public scrutiny, which could potentially result in human rights violations. For instance, last year the Wall Street Journal reported how Huawei technicians had secretly helped security personnel to spy on political opponents. And there are other reports of police being spotted trading in personal data collected by the cameras to criminals.
Huawei is reportedly providing CCTV equipment and installation in phases. The first phase was concluded late last year and the National CCTV system was commissioned by President Museveni. The system is located at the police headquarters in Naguru, equipped with 83 monitoring centres, 522 operators and 50 commanders.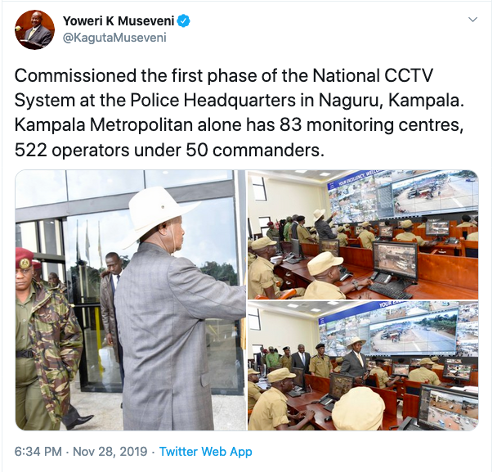 The Inspector General of Police, Martin Ochola informed Museveni during the launch of the Command center that the police plan to integrate their CCTV camera and forensic system with other key agencies' data such as Uganda Revenue Authority (URA), NITA-U, National Identification Registration Authority (NIRA) and immigration office.   
In the second phase, which started rolling out early this year, 20 facial recognition cameras are expected to be installed and connected to 107 monitoring centers at different police stations within 2,319 mapped countryside municipalities and major towns.
However, key concerns around transparency and accountability of both resources and personal data remain unanswered. Unwanted Witness continues to demand the observance of international human rights law in the deployment of surveillance to safeguard human rights, freedoms and democracy in Uganda.