Borders Without Borders: How the EU is Exporting Surveillance in Bid to Outsource its Border Controls
Documents obtained by Privacy International (PI) detail how EU agencies 'outsource' border controls to neighbouring countries.
Key findings
EU bodies are equipping and training authorities, influencing laws, and developing mass-scale biometric databases in non-member countries;
Security authorities are provided with digital tools of surveillance;
This programme of outsourcing will be used to crush political and civil freedoms and undermine democracy without urgent reforms.
Long Read
Post date
10th November 2020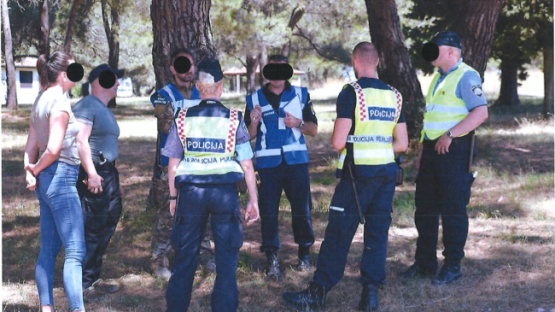 The European Union (EU) is the world's largest donor of development aid, an instrumental supporter of democracies and peace around the world, and a powerful global force for reigning-in big tech and other exploitative industries.
 
But since the 2015 migration crisis and with populist anti-immigration parties in power across the Union, it has focused this immensely powerful influence abroad squarely on managing flows of migration: using its economic, diplomatic, and security might to outsource border controls and migration management to other countries.
 
By equipping and training third country authorities, influencing laws, and developing mass-scale biometric databases in neighbouring countries, the EU is providing authorities with digital tools of surveillance in the hope they will use them to stop people reaching the Union's borders.
 
These same tools, however, are being used around the world to entrench political control through the tracking and surveillance of entire populations, activists, journalists, and opposition movements.
 
Without urgent changes to the EU's policies and priorities, detailed by a coalition of activists today, this programme of outsourcing will be used to crush political and civil freedoms and undermine democracy.
 
Below, using documents obtained by PI after a year of filing requests to major EU agencies, available here, we summarize how this system of border outsourcing works.
 
 
Equipping
Countries to the South and East of the EU's borders are provided with surveillance and tracking equipment.
 
In Niger, €11.5 million was allocated from the EU Trust Fund for Africa, a funding programme which uses EU aid money to for migration control, for the provision of surveillance drones, surveillance cameras, surveillance software, a wiretapping centre, and an international mobile subscriber identity catcher (IMSI catcher). An IMSI catcher is a sophisticated surveillance device capable of carrying out indiscriminate monitoring of mobile phones in a given area. They are so sensitive that authorities in the UK refuse to even confirm or deny that they use them.
 
The transfer of this equipment comes in the context of a recent crackdown on activists in Niger and a surveillance legal framework which lacks essential and well-established safeguards and is in direct defiance of international legal standards.
 
In Bosnia and Herzegovina, a wiretapping system sold by Swedish tech giant Ericsson was provided to the State Investigation and Protection Agency (SIPA), which has a Memorandum of Understanding with other law enforcement agencies in the country allowing them to use the system, including the Border Police.
 
Biometric registration equipment and databases are provided to authorities for border and migration control: for example, fingerprinting devices were provided to authorities in Bosnia and Herzegovina sold by electronics company NEC; while mass-scale biometric databases are provided to numerous countries, including Senegal and Côte d'Ivoire – the subject of an analysis released today by Privacy International and available here.
 
To its east, on the Ukraine-Belarus border, an EU project for an "automated intelligent video-control system" financed cameras and license plate scanning software in order to alert authorities to information about an approaching vehicle and its passengers. Similarly, license plate scanning equipment for use by authorities along the Ukranian-Moldovan border connected to a centralised monitoring centre was provided as part of 2018 project.
 
Various projects financed and managed by a mix of aid and other agencies work to provide equipment for border forces and border control purposes across Northern Africa and the Middle East.
 
A 2018 aid project worth €11 million, for example, was provided to Lebanon to support "the establishment and operationalisation of central operations rooms and coordination entities", including the armed forces' border control unit.
 
In Libya, more than €42 million was allocated from the Trust Fund for Africa for a border control project in 2019, which included the provision of patrol boats, SUV vehicles workstations, radio-satellite communication devices, and other equipment to coast guard authorities in Libya as well as the Directorate for Combatting Illegal Migration.
 
Another 2018 aid project worth €11 million was provided to Jordan to equip border crossing points with "operational equipment, IT tools [and] software" and to provide equipment to officers for "specialised investigation techniques". The agreement states that the equipment, which can presumably range from communication devices to highly intrusive surveillance equipment, is to be "defined at inception phase" – meaning funds were approved before the equipment was identified.
 
 
Training
Multiple EU bodies facilitate or organise training for border control forces, including the European Union Agency for Law Enforcement Training (CEPOL) – the subject of another analysis published today.