An unhealthy diet of targeted ads: an investigation into how the diet industry exploits our data
Companies selling diet programmes are using tests to lure users. Those tests encourage users to share sensitive personal data, including about their physical and mental health. But what happens to the data? We investigated to find out.
Achieved result
After re-testing the websites in September 2021 we found that:
BetterMe is no longer sharing data (explicitly) with a third-party, as it was when we first analysed the site in March 2021.
BetterMe now displays a new low weight warning when a user enters a weight under the World Health Organization's recommendations. However, the company doesn't prevent the user from continuing with that weight.
BetterMe and VShred now display a cookie banner. BetterMe's banner allows users to reject tracking (effectively) while VShred banner does not allow users to reject tracking.
Key findings
More and more companies selling diet programmes are targeting internet users with online tests with little to no clarity when it comes to what happens to your data.
These tests request sensitive personal data about your medical history and mental health.
For at least two of the programmes we looked at, the data we entered did not affect the programme we were being sold, raising questions as to why the data is collected in the first place.
We conducted traffic analysis to find out what happens to the data and discovered that one of them actively collected and shared sensitive personal data, while the poor security practices of the others meant the data was de facto accessible to third parties.
Long Read
Post date
4th August 2021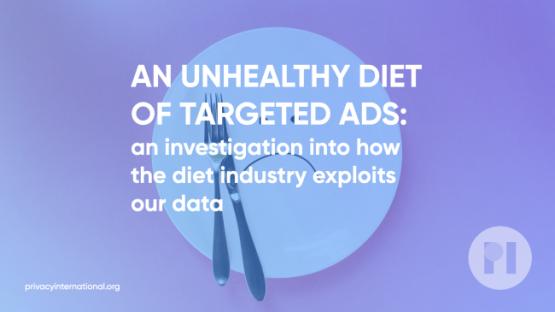 For many, browsing the internet or checking social media comes with its fair share of being targeted with ads selling "fad diet" subscription-based programmes, magic weight-loss powders, or promising a secret trick to lose weight quickly. Some of the products and programmes sold have been described as scams, with a very real impact for those suffering from eating disorders and those who fall prey to these ads. This is even more problematic due to the Covid-19 pandemic, which has seen the numbers of children with eating disorders "soar".
Social media platforms have tried addressing the problem: Facebook has banned '"before-and-after" images or images that contain unexpected or unlikely results'; for users under 18, TikTok banned ads promoting fasting apps and weight-loss supplements; Instagram hides posts that promotes the use of certain weight-loss products from users under 18; and Twitter prevents advertisers from targeting people suffering from eating disorders. But there are workarounds. Facebook, for instance, still gives the option to advertisers to target teenagers with an 'interest in extreme weight loss.'  
As part of our research into the "AdTech" industry, Privacy International noticed that the diet ads we were targeted with led us to tests aimed at creating a so-called profile of our body and eating habits, to design a dieting programme, which they said were specific for our needs. Given our previous experience with depression tests and the current environment of vast and often unlawful data collection, Privacy International looked into those tests to find out what data those companies were collecting, what those programmes involved, where the data was going, and who it was shared with. Here is what we found.
'Body profiling': who are the companies trying to know you and what are they trying to sell?
For the purpose of this research, we have looked into three companies offering tests online to help you 'find the diet that is best for you': BetterMe Meal Plan, Noom and VShred. BetterMe Meal Plan and Noom were the first ads that came up on Google after a search for "weight loss," while VShred targeted us with ads on YouTube following that search. It is worth noting however that some internet users are targeted by those very companies without ever searching for weight loss-related topics.  
BetterMe Meal Plan
BetterMe Meal Plan is part of the BetterMe family of apps run by BetterMe Limited, a company registered in Cyprus. However, a look at the career section of their website reveals that they operate from Kyiv, Ukraine. They claim to have a team of over 100 people working for them and to be "one of the largest partners of Facebook/Google/Snapchat/Twitter from [Central and Eastern Europe]." BetterMe creates apps for healthy living: diet, walking, running, yoga, meditation, period tracker…  They claim to have "50 million installs" across their apps and "6 million members across social media platforms".
So we tried it out. BetterMe Meal plan starts by asking if you are a man or a woman. During our research, we observed that after this point, the questions will be identical no matter the gender you indicated, but the illustrations will change.
BetterMe Meal Plan then asks you to define your goal: losing weight, gaining muscle, or developing healthy habits. We've observed that even when your goal is not losing weight, the test will still ask you to define your ideal weight and provide you with the same weight loss plan whatever your ideal weight is.