International Safe Abortion Day 2023
Long Read
Post date
27th September 2023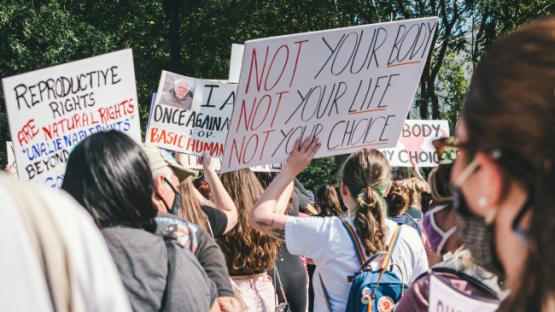 Introduction
The 28th of September marks International Safe Abortion Day. It remains a day necessary to mobilise and raise awareness of the continued struggles women and girls face when accessing reproductive healthcare, including access to safe abortion. Across the world, abortion continues to be criminalised, restricted and in some places under attack. All of which constitute severe obstacles for women and girls to fully exercise their human rights, particularly their right to privacy, which is vital in accessing reproductive healthcare.
While there have been some small wins for reproductive rights over the past year, there have also been regressions and the looming persistence of draconian anti-abortion laws. A few positive developments from a range of countries have counter-balanced the backsliding of reproductive rights. In Mexico, the Supreme Court ruled on the monumental decriminalisation of abortion across all 32 states. In May 2023, safe access zones were signed into law in England and Wales under the Public Order Act. However, the battle is ongoing in most countries. In Northern Ireland, the Abortion Services (Safe Access Zones) Act came into force in February, but the population still awaits proper implementation of these measures. Malta, which had the strictest abortion laws in the EU, has seen a new abortion law passed in June 2023. However, the bill was watered down to allow for abortion only when a woman's life is at risk, if agreed upon by three specialists and it still does not provide an exception for rape or incest. In Poland, the government continues to crack down on abortion following its near total ban on abortion in 2020, with recent reports of "witch hunts" against women and girls who have sought medical care for miscarriage. Further still, across the world several countries continue to face fierce attacks by opposition groups that wish to curtail women's reproductive agency, furthering discrimination and obstructing access to safe abortion care.
A strong undercurrent of the threat to access to reproductive healthcare, is the omnipresence of technology. Now more than ever, we are seeing new and sophisticated ways to surveil those seeking access to abortion, through digital technologies and the exploitation of our sensitive health data.
Technology in sexual and reproductive health
New and emerging technologies in women's health, known as "fem-tech" have rapidly expanded in the past few years to address a wide range of women's health issues including sexual wellness, menopause, pelvic health, and mental health. Technology to manage reproductive healthcare can empower women and girls providing smart ways to track their menstrual cycle and offering increased access to sexual health information, particularly to those who face stigma or taboo.
However, some of these technologies threaten our privacy, which is essential in the enjoyment of our reproductive rights. They've also provided new avenues through which law enforcement can use data as evidence to criminalise people in situations where abortion is restricted. And technology has also fuelled the use of data-exploitative tactics by those in opposition to safe abortion, to spread false and misleading health information or to curtail or delay access to abortion care. Therefore, pregnant people now have another hurdle to face when accessing safe abortion – ensuring that they've protected their health information online.
Period-tracking apps
Period-tracking and fertility apps are one of the most popular types of fem-tech on the market. The risks they pose to privacy gained significant traction following the overturning of Roe v Wade in the US, which forced people to reconsider their engagement with platforms processing health data.
A particular threat is the way in which period-tracking apps store, collect and sometimes share data with third parties, which we have been highlighting as far back as 2019. Our research initially focused on data sharing by such apps and within which we found that at the time of the research, one app was sharing extensive data with Facebook right down to the amount of times we were opening the app. We followed up this research with an investigation into how such apps enable users to access and control their data (or not). We found that the extensive data-collection included multiple pages of our most intimate data, including data about our sexual life, our masturbation habits and our medication intake.
With period-tracking apps firmly on the map and following our extensive research, even recently the UK Data Protection authority, the Information Commissioner's Office has launched its own call for evidence to assess the risks and harm these apps may pose to UK users, be it through seeing upsetting or unexpected adverts after using an app or discovering your information was used in way you didn't expect. They are accepting evidence until the 5th October.
Law enforcement use of data
Law enforcement have also found new ways of using technology and data against those seeking abortion in situations where abortion is criminalised. This development, feared as much as it was anticipated in the aftermath of the Dobbs v Jackson Women's Health decision in the US, has also highlighted the limited reach of data protection laws in this regard, which often contain exemptions for law enforcement.
In the US, police have been reportedly using Facebook chat logs to prosecute abortion seekers, which was the case in proceedings against a woman in Nebraska accused of helping illegally terminate her daughter's pregnancy.
However, the ways in which law enforcement can use this data is no longer an issue confined to the US. This year, a woman was sentenced in the UK for taking abortion pills beyond the legal limit. During the court proceedings, it emerged that the police had obtained Google searches made by the woman, such as: 'I need to have an abortion but I'm past 24 weeks' and 'Could I go to jail for aborting my baby at 30 weeks.' In June 2023, it was reported that access to information requests revealed that dozens of women accused of illegal abortions face police investigations in the UK, which include seizures of their electronic devices.
Data-exploitation and access to information
Those who oppose access to safe abortion have also benefitted from the increasing accessibility of health data and have directed their efforts online. In 2020, we published our report on the 10 data exploitative technologies being developed to delay or curtail access to reproductive healthcare, informed by country-case studies by our global partners on data exploitative technologies used to curtail women's access to reproductive rights in Brazil, Peru, Argentina, Indonesia, India, Kenya and Chile. We flagged the use of geo-fencing, which can reportedly tag and target anti-abortion ads to the phones of people inside reproductive health clinics, and the creation of fake websites that merely give 'the impression' of offering objective counselling and information about pregnancy options.
More recent reports in the media have certified that these practices are continuing. In June it was reported that Google earned $10m from ads misdirecting abortion seekers to 'pregnancy crisis centres'.
Considering the plethora of issues associated with the intersection of digital technologies and healthcare, the UN Special Rapporteur on the right to health published her thematic report on Digital innovation, technologies and the right to health. The report makes specific reference to the ways in which digital technologies can pose threats to reproductive health. The Rapporteur highlighted the ways in which technology companies, including social media companies play a vital role in enabling the right to information, an important component of the right to health. However, the Rapporteur also notes that their existing policy frameworks must consider how they risk criminalisation of certain populations and how technology and innovative tools in health run the risk of exposing marginalised groups beyond the intended digital or social media tool.
Conclusions
The saturation of technology within the healthcare sector poses new and significant threats, particularly within the reproductive health field, which has seen significant uptake of such technologies. This is against a backdrop of increased surveillance and criminalisation threatening individuals' right to reproductive healthcare. Privacy is a vital piece of the puzzle to ensure access to safe abortion and we need to ensure it is upheld when accessing reproductive healthcare online and with new technologies.